Emmanuel Macron's visit was intended to be entirely focused on Iraq. But it took place, Saturday, August 28 in Baghdad, in the shadow of the Western debacle. in afghanistan, nearly two weeks after the Taliban returned to power in Kabul. The French head of state could not ignore the shock wave generated by the precipitous withdrawal of the United States and the victory of the Islamic fundamentalists in Kabul.
The situation in Iraq is not comparable to that in Afghanistan, but the two countries face a common threat, as shown by the deadly attack carried out by the Islamic State (IS) organization in heart of the Afghan capital, at the gates of an airport which has become, at least until August 31, the only point of exit from the country.
Mr. Macron first had talks with Iraqi Prime Minister Mustapha Al-Khadami. Then he participated in the "conference of neighbors of Iraq", organized by Baghdad in partnership with Paris, in order to open a forum for dialogue and cooperation between the countries of the region. In each of his interventions, Mr. Macron worked to give pledges to the Iraqi leaders, against a background of doubts, reinforced by the Afghan fiasco, about the commitment of the United States in this vast region.
"We will maintain our presence" in Iraq
In the green zone of the Iraqi capital, the ultra-secure sector where the ministries and the American embassy are housed, he insisted that France will remain committed against IS, in the country as elsewhere, in the name of the fight against terrorism. "Whatever the choices of the American government, we will maintain our presence In the country, assured the French president. "We have the operational capacities" to do so, he insisted on clarifying.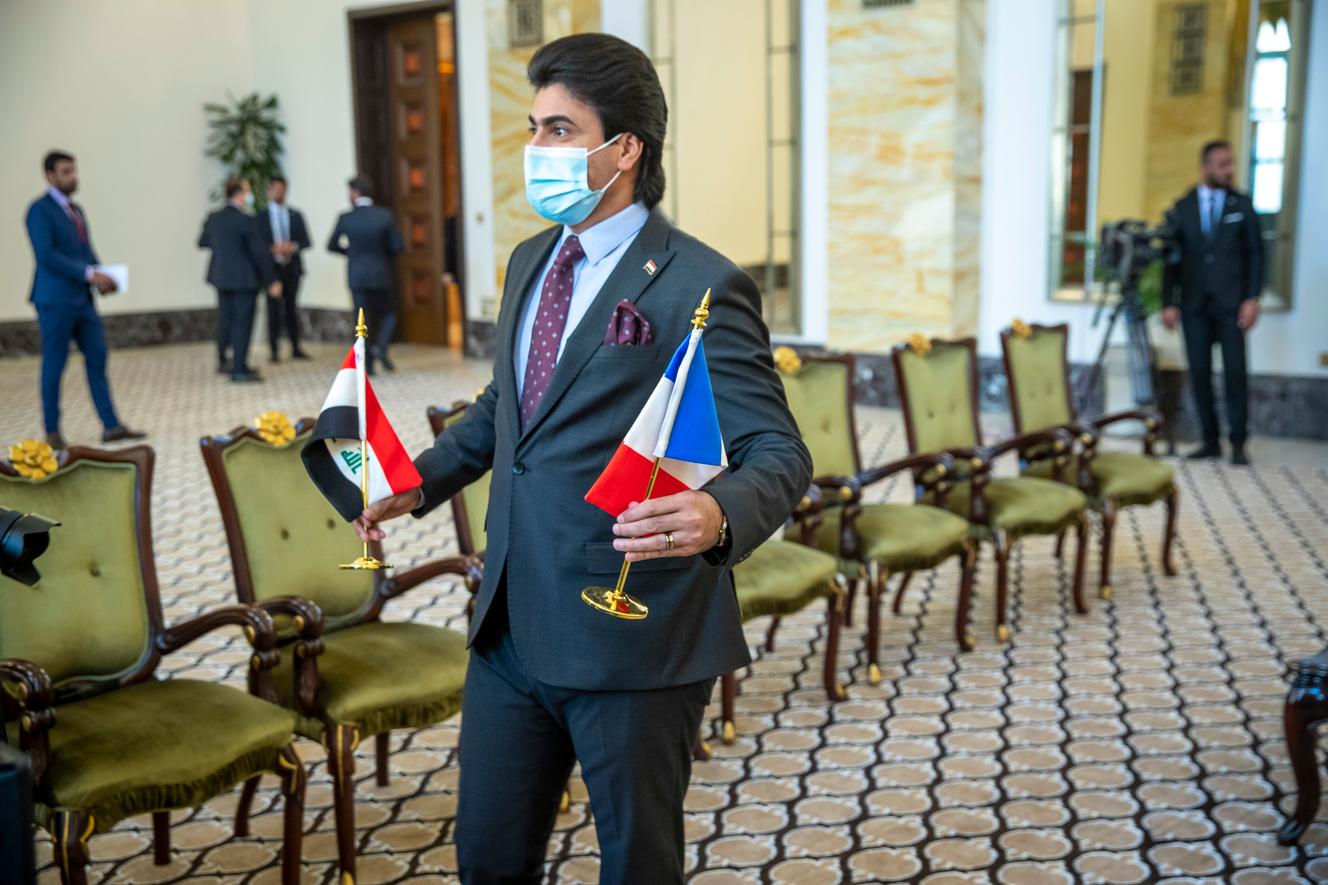 A way, in hollow, to distinguish itself from the vagueness surrounding Washington's intentions. Paris is also keen for the United States to maintain its presence in Iraq. " if necessary ". The American workforce was reduced to 2,500 by former President Trump, a low that Joe Biden has not, at this stage, questioned.
On the French side, some 800 soldiers are engaged in the region in the fight against terrorism within the framework of operation "Chammal" – name given to the French component of the combined operation "Inherent Resolve" bringing together more than 70 nations at the request of the government. Iraqi. It aims to provide military support to local forces engaged in the fight against Daesh on their territory that there is no question of withdrawing. For Paris, IS is still a real threat in Iraq, even if the Caliphate was defeated in 2017. More or less dormant cells are still present there, capable of organizing, as in July in the capital, murderous attacks.
You have 40.36% of this article left to read. The rest is for subscribers only.