"If it is safe and responsible to stay longer (than August 31), we may consider it." said State Department spokesman Ned Price. The withdrawal of all US troops from Afghanistan is due to be completed by the end of August.
The US Department of Diplomacy also called on the Afghan Taliban to deliver on its promises to respect the rights of its citizens. "If the Taliban say it will respect the rights of its citizens, we will monitor compliance with this statement." said Price.
The Taliban promised people better rights
Taliban spokesman Zabihullah Mujahide said at his first press conference on Tuesday that the Taliban would respect women's rights, but within the norms of Islamic law, that they would guarantee Afghanistan's security, that they would not seek revenge, and that they pardoned everyone, even when cooperating with the former government or foreign governments or forces in the country. He also said the Taliban wanted private media to "remain independent." However, he stressed that journalists "should not work against national values".
Taliban fighters occupied the Afghan capital Kabul on Sunday with surprising ease and overthrew the government, two decades militarily backed by the United States and NATO. Afghan President Ashraf Ghani had fled the country shortly before. Staff from Western embassies moved to Kabul Airport, which is under the protection of the rearguard of US troops deployed to cover the Allies' retreat.
The US military is evacuating the people of Kabul
The U.S. military has evacuated 3,200 people from Afghanistan so far, 1,100 of them on Tuesday, a White House official told AFP. "U.S. military planes evacuated approximately 1,100 U.S. citizens, U.S. residents, and their families today at the age of 13." said a White House official who did not want to be named. Washington expects the daily number of people flying from Kabul to the United States to increase in the coming days.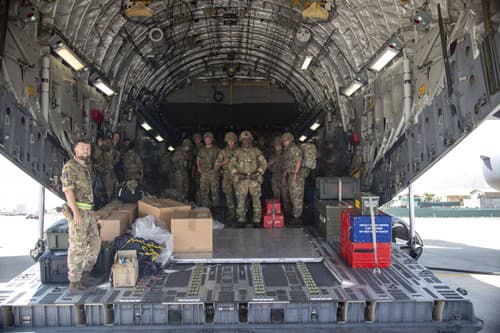 Earlier on Tuesday, the White House said there were 11,000 U.S. citizens in Afghanistan, most of whom were awaiting evacuation. Washington wants to complete the deportation of its citizens by August 31. In this context, the Pentagon plans to increase the frequency of flights of its huge C-17 transport aircraft from Kabul to maybe two dozen a day.
Despite media reports that some people trying to flee the country have been victims of Taliban violence, "a large number" of people have managed to get to the airport, according to US President's National Security Adviser Jake Sullivan. "The Taliban have informed us that they are ready to ensure the safe passage of civilians to the airport," Sullivan told reporters at the White House, according to AFP.
EASA does not recommend flying over Afghanistan
The European Aviation Safety Agency (EASA) does not recommend that commercial airlines fly through Afghanistan's airspace. TASS reported on Wednesday.
"EASA recommends that commercial operators do not operate any flights in Afghanistan's airspace until further notice," a European agency based in Cologne, Germany, said in a statement. According to TASS, the Authority plans to reconsider this recommendation on 20 September.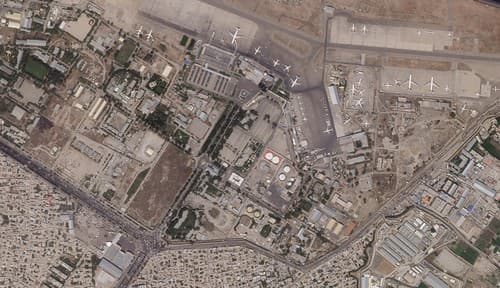 Source: SITA / Planet Labs Inc. via AP
The airline Lufthansa suspended the flights of its planes over Afghanistan on Monday until further notice. The group, based in Germany, owns the airlines Brussels Airlines, Swiss, Austrian Airlines and Eurowings, which are affected by the measure. Lufthansa pointed out that flights to India, for example, will be delayed by about an hour.
Many diplomats and local staff of diplomatic missions in Kabul, Afghanistan, are trying to leave the country aboard military specials. Commercial routes from Hamid Karzai International Airport in Kabul have been canceled.
NATO foreign ministers will discuss Afghanistan on Friday
The foreign ministers of the member countries of the North Atlantic Alliance will hold an extraordinary video conference on Friday on the situation in Afghanistan, which was occupied by the Taliban movement. This was announced on Wednesday by NATO Secretary General Jens Stoltenberg.
"On Friday, August 20, I convened an extraordinary virtual meeting of NATO Foreign Ministers to continue close coordination and discuss our common approach to Afghanistan." according to AFP Stoltenberg on Twitter.
I have convened an extraordinary virtual meeting of #ONTO Foreign Ministers this Friday 20 August to continue our close coordination & discuss our common approach on #Afghanistan.

– Jens Stoltenberg (@jensstoltenberg) August 18, 2021
The NATO chief said on Tuesday that "The Afghan political leadership ultimately failed to stand up to the Taliban and reach a peaceful solution that the Afghans desperately wanted … This failure of the Afghan leadership led to the tragedy we are witnessing today.".
Taliban fighters occupied the Afghan capital Kabul on Sunday and overthrew the government, militarily backed by the United States and NATO for two decades. Afghan President Ashraf Ghani had fled the country shortly before.