In the age of streaming, it is difficult to make a long career … For its second weekend of operation in the United States, The Suicide Squad raised 7.8 million dollars (total: 42.9 million). This represents a drop of 70.4% compared to the first weekend, even more pronounced than those of Batman v Superman: Dawn of Justice (-69.1%) and Black widow (-67.8%). It's even the biggest drop in a DC Comics production since Steel (-78%). Marvel side, alone X-Men: Dark Phoenix (-71.5%) managed to do worse. Slipping from first to fifth place at the box office – behind Free Guy (28.4 million), Don't Breathe 2 (10.6 million), Jungle Cruise (9 million) and Respect (8.8 million) -, the suicidal blockbuster of James Gunn will have to be satisfied with 60 million dollars at the end of his career. Either less than Birds of Prey (84.2 million) or that the first day of Suicide Squad (64.9 million)…
Internationally, The Suicide Squad collects another 17 million dollars (total: 75.2 million), carried by the United Kingdom (14.9 million), Russia (7.3 million) and France (4.3 million). So that gives us a global prize pool of $ 118.1 million. For the honor, we hope that the film will be able to surpass Wonder Woman 1984 (166.5 million), failing to approach Birds of Prey (201.9 million). But to a few million dollars, it promises to be already cooked. With or without a pandemic, soft-rebooting Task Force X with a total budget of $ 285 million – $ 185 million for production, $ 100 million for promotion – will therefore still sound like a very bad idea, especially after receiving Suicide Squad. (Reminder: a studio only recovers 50% of the revenue.) With that, see you in September for the box office of Shang-Chi and the Legend of the Ten Rings, that we hope for better (or rather, less worse)!
﹡﹡﹡﹡﹡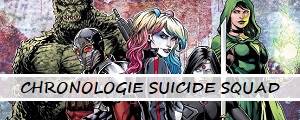 ﹡﹡﹡﹡﹡
The Suicide Squad of James gunn was released in France on July 28, 2021, with Margot Robbie (Harleen Frances Quinzel / Harley Quinn), Idris elba (Robert DuBois / Bloodsport), Jai courtney (George 'Digger' Harkness / Captain Boomerang), Joel kinnaman (Rick Flag), John cena (Christopher Smith / Peace-Maker), David dastmalchian (Abner Krill / Polka-Dot Man), Daniela Melchior (Ratcatcher) and Viola Davis (Amanda Waller).