The Slovenian photograph was noticed by the American University Association for Space Research and awarded it the Geodetic Image of the Day, or EPOD (The Earth Science Picture of the Day). It collects various interesting images about the universe and highlights the diverse processes and phenomena that shape our planet and our lives. The section as such was founded in 2000 by NASA Emeritus Jim Foster, and currently belongs to a university association.
The portal informs about it astro-novinky.eu. The picture as such comes from a Norwegian city Tromsø. The Slovenian went to Scandinavia in October this year, but he was not alone – he was accompanied by three other Slovak and Czech photographers. "The film called Aurora over the Norwegian Sea was taken on October 27 in the early morning hours. It was at this time that the entire beach lit up with a bright aurora borealis in the moonlight, and the phenomenon simply could not be captured. The bright aurora even reflected off the water surface, shining the moon with its brightness. In the middle of the photo, you can also notice the famous asterism – The Big Dipper from the constellation Ursa Major, " informs the portal.
In addition, photographers in Norway met with one of the most famous creators of night-time time-lapse videos – Andrien Louis Mauduit. Thanks to him, a group of photographers gained not only interesting pictures, but also important knowledge from new knowledge about the occurrence of aurora borealis. The whole expedition lasted two weeks. However, this is not the first exceptional award for Slovenian. He has won the NASA Astronomical Image of the Day award six times in the past and the Geoscience Image of the Day award eight times. The current award is thus the ninth in Slovenia.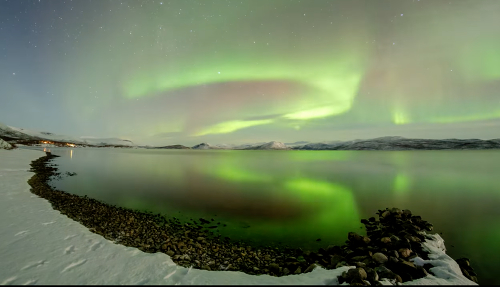 Source: Youtube.com/Petr Horalek
However, for Slovenia this is not the only victory in the last period. He was recently approached by the well-known discoverer of asteroids from Nové Zámky – Štefan Kürti, who named one of the newly discovered space bodies after Slovenia. He personally handed him a record showing the name of the Slovenian asteroid 2013 CA196. It is located in the main asteorid belt at a distance of about 3 AU, which are astromic units from the Sun, and it is at a distance of about 450 million kilometers. " There are currently 22,870 asteroids worldwide out of a total of more than 1.15 million small bodies in the Solar System discovered to date. Stefan has been discovering asteroids almost all his life and in a similar way he has pleased several well-known Slovak personalities in the past, such as Miroslav Žbirka or Anastasia Kuzminová, " points out the portal.