The epidemiological situation in Slovakia deteriorated slightly again. However, it is under control. From Monday, November 1, there will be 24 black districts. There will be 39 districts in the burgundy phase and eight districts will turn red. Eight of them will be orange.
VIDEO Experts urge people not to travel during Dušičky, especially to black districts
---
After Dušičky, Slovakia will go black: Topoľčany HAS BORROWED by up to three degrees! Dunajská Streda was saved by vaccination
---
There are 24 black districts, Topoľčany has lost three degrees
No district will be green from next week. The district of Topoľčanyz became a jumper in the negative sense of the word, which got from orange straight to the black phase. The coronavirus spreads mainly among children and subsequently to their parents and other relatives. The total vaccination rate in the district is at the level of less than 39%.
In the vigilance phase (orange) will be the districts of Bratislava I.-V., Galanta, Komárno and Šaľa.
In the 1st level of danger (red color) will be the districts of Dunajská Streda, Ilava, Levice, Nové Zámky, Prievidza, Senica, Trnava and Žarnovica.
In burgundy color, ie in the 2nd degree of danger will be the districts of Bánovce nad Bebravou, Banská Bystrica, Banská Štiavnica, Brezno, Bytča, Detva, Dolný Kubín, Gelnica, Hlohovec, Kežmarok, Košice I.-IV., Košice-okolie, Krupina, Liptovský Mikuláš, Malacky, Myjava, Nitra, Nové Mesto nad Váhom, Partizánske, Pezinok, Piešťany, Považská Bystrica, Prešov, Púchov, Revúca, Rožňava, Senec, Skalica, Trebišov, Trenčín, Turčianske Teplice, Veľký Krtíš, Žiar nad Hronom, Žilina, Zlaté Moravce and the district of Zvolen.
In the worst black color (3rd degree of danger) the districts of Bardejov, Čadca, Humenné, Kysucké Nové Mesto, Levoča, Lučenec, Martin, Medzilaborce, Michalovce, Námestovo, Poltár, Poprad, Rimavská Sobota, Ružomberok, Sabinov, Snina, Sobrance, Spišská Nová Ves, Stará Ľubovňa, Stropkov, Svidník, Topoľčany, Tvrdošín and Vranov nad Topľou.
To Dušičky without restrictions, travel carefully
The Council of Experts concluded that there was no need for restrictive measures in respect of the forthcoming holidays. As council member and pediatrician Elena Prokopová said last week, experts recommend that people consider traveling to graves or visiting relatives during the holidays, especially in the burgundy and black districts. As the infectologist Alena Košťálová stated, they rely on people's responsibility.
5 Councils of the Council of Experts on the Feast of All Saints and Remembrance
1. During the extended weekend, find time to stay in nature and stay only in the circle of the immediate family.
2. Travel to the Black and Burgundy Districts only when absolutely necessary.
3. If you have to travel, prefer individual transport and follow basic preventive measures – wear a veil or respirator, keep your distance from people outside your loved ones and observe hand hygiene.
4. Postpone meetings with extended family and friends until a more favorable epidemiological situation. Meetings with people at risk of severe Covid-19 disease are particularly risky, especially if they are not vaccinated. These are the elderly, people with chronic diseases and people with weakened immunity.
5. Avoid places with a high concentration of people – shopping malls, public transport, public events and meetings, including visits to graves on Saturdays and Sundays, where the risk of infection increases due to the expected onslaught.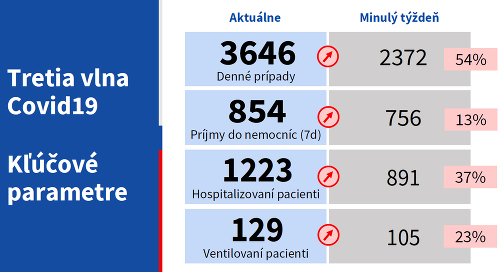 If someone decides to travel to other districts, they should consider visiting the cemetery on days other than the next extended weekend. A council of experts advises people to have a veil outdoors if there are many people in the area. They also recommend traveling by individual transport. For example, they recommend people to avoid crowded shopping malls and rather use the time to move in nature.
The risk of infection in the Black District is high
Experts have decided to rely on people's responsibility. They expect a certain increase in the positives, but they hope that it will not be large. They also point out that people wear drapes or respirators in black districts and outdoors. The incidence is that one in 200 people has a coronavirus, so the risk of meeting a positive person is high. And this is an incidence calculated only from testing data.
VIDEO The situation has slightly worsened again, but according to the Minister of Health, it is under control
Measures in black districts
Strict black-awaited districts and restrictions will also affect vaccinated people. This is the last within the COVID machine. the strictest stage. The only thing that will not be limited yet is movement. To do this, the government would have to accept the state of emergency again, and according to the latest statements of the Minister of Health Vladimír Lengvarský, it is not yet on the table.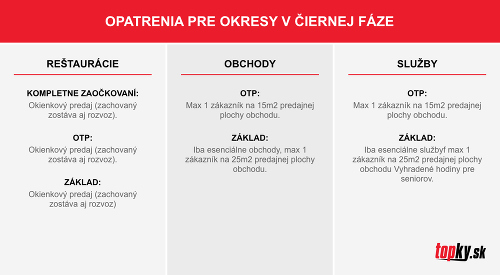 Regarding upper airway overlap, a respirator will be mandatory in the interior. You will also have to protect yourself outside, with a drape required in the exterior, with some exceptions. Mass events they will only be able to be fully vaccinated, even up to 100 people under strict anti-epidemiological measures, with the organizers having to keep a list of participants. The same goes for worship with the difference that they will be able to take place in the OTP regime (vaccinated, tested, those who overcame COVID-19, max 1 person per 15 m2) and the base (max 1 person per 25 m2 + mandatory list of participants).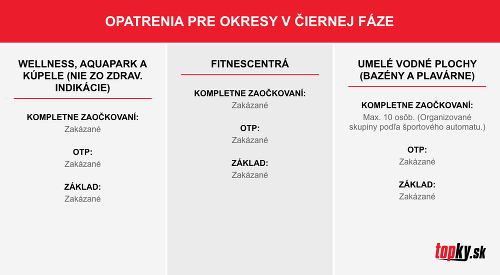 Weddings, karyas, celebrations or fitness will get a stop sign
However, it will be worse with the proceedings weddings, carts, organizing celebrations or parties. As this is a high-risk activity, they are completely banned in the black phase. It's different for ceremonies like marriage, baptism, funeral, etc., these will be governed by mass events in the case of fully vaccinated, as far as OTP regimes and the base are concerned, a maximum of 6 people will be able to attend, with the exception of funerals.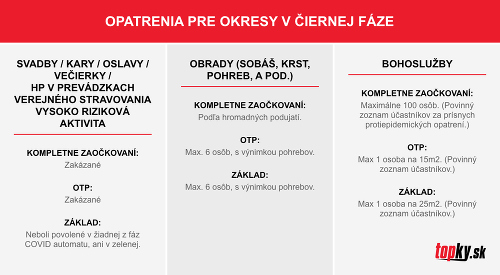 However, they will get a full stop fitness, wellness, water parks and spas. Regarding swimming pools and swimming pools, they can also be open only to fully vaccinated, for a maximum of 10 people, with organized groups governed by a sports machine. It won't be easy either restaurantswho will not be able to let anyone into the interior in the black districts. In all three regimes, only window sales are allowed and delivery is maintained.
The COVID vending machine may change after the holidays
The COVID machine could change, but only after the holidays and taking into account the current epidemiological situation. The Minister approaches the protection of human health responsibly and listens to the opinions of experts. According to spokeswoman Zuzana Eliášová, the ministry is open to a constructive discussion about more relaxed rules for people who protect themselves from the serious course of COVID-19 vaccination.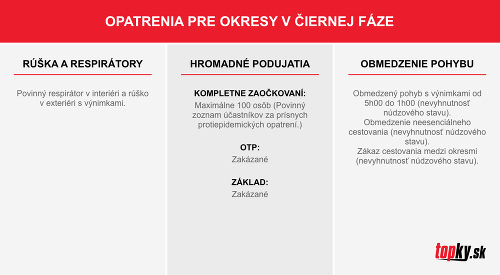 She recalled that a consortium of experts last week stated that the release of measures in the black districts for those vaccinated before All Saints' Day and the Memorial of the Dead is not recommended. "Because people are expected to travel during these days, it's important to be careful and do our best to eliminate the spread of the virus for the sake of health and lives. The Minister heard their recommendations and agreed with him as a doctor." the spokeswoman clarified, adding that after the holidays, Lengvarský is open to discussing this issue.
SaS wants more freedom
On Wednesday, SaS representatives announced proposals for changes in the COVID vending machine. They demand more freedom for those vaccinated against COVID-19. He proposes to allow vaccinated people to establishments whose owner is equally vaccinated, even in black districts. He also wants people to have the same freedoms as vaccinated people after overcoming COVID-19, as they have antibodies and also pose a lower epidemiological risk.
Any changes in the COVID vending machine are for professional discussion, not just for the decision of politicians. This was emphasized by the We Are the Family movement in response to SaS's proposals for change. We family has also underlined that it continues to reject the division of people into two groups. "This is definitely for a professional debate, not just a decision by politicians, so we will prefer a debate with experts and then we will be able to comment on it in more detail. the movement responded.