From Monday, October 25, the possibility of registering for vaccination with the third dose for persons over 55 years of age, for persons from 18 years of age with associated diseases and for persons with an increased risk of infection is launched.
VIDEO If you are fully vaccinated and have overcome COVID, the third dose is not needed: Registration for the next group opens
---
---
If 80 percent of the risk group is vaccinated, everyone will be able to apply
"When approximately 80 percent of those in this risk group are vaccinated, a third-dose vaccination will also be opened for those in the general population." said Koščálová. In Slovakia, the third dose is given for two weeks, 23,000 people have been registered and just over 7,000 people have already been vaccinated. Currently, mainly people with immune disorders are vaccinated.
"Vaccination has also started with risk groups who need a booster dose, which is given 6 months after the second dose." said Alena Koščálová, a member of the Board of Experts and the Head of the Department of Infectious Diseases and Geographical Medicine, UN Bratislava – Kramáre. This includes paramedics, and clients and employees of the ZSS have also started to be vaccinated.
If you have not received an SMS or you are not sure if you belong to a risk group, contact your doctor
They also experienced several problems. "Solutions are being sought quickly. We have detected that some people have received an SMS despite feeling that they do not belong to the group that should be vaccinated and, conversely, people who should be in this group have not received an SMS." said the expert. He recommends that people contact their GP, specialist or vaccination center.
VIDEO Dušičky will be without restrictions: 5 likes of experts! The risk of meeting the positive in the black district is high
"This is a group that is difficult to identify, so it is a good idea that such problems happen. It is important that this group is vaccinated." added to the risk group's margin. She called on people to use the registration system to make it easier for vaccination centers.
If you have overcome COVID, you do not need another dose
Many wonder if they need a third dose even though they are fully vaccinated and have overcome COVID-19. "What we communicated last time is that those who are fully vaccinated and have overcome COVID do not basically need a third dose because the disease acts as a booster for them," explained Koščálová.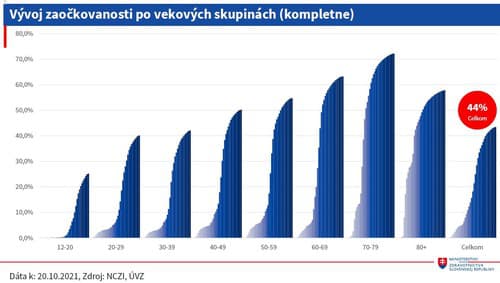 Nevertheless, they also showed interest in this group, so vaccination with the third dose will also allow those who are fully vaccinated and have overcome coronavirus. "Although it may not be absolutely necessary," stated that vaccination should be considered if people in this group had a light, resp. mild or asymptomatic, or have overcome coronavirus more than a year ago.
The third dose vaccinated more than 7,000 people
The third dose of COVID-19 vaccine vaccinated 7,212 people in Slovakia on Thursday (October 21). This follows from the information published on its website by the State Institute for Drug Control (ŠÚKL). In Slovakia, according to the data of the National Center for Health Information (NCZI), to which the state institute refers, a total of 2,487,216 persons were vaccinated with the first dose of the vaccine and 2,287,277 persons with the second dose.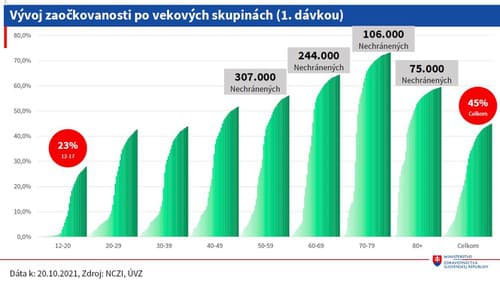 In Slovakia, the third dose is currently being vaccinated with Comirnaty vaccine from the Pfizer / BioNTech consortium. The Ministry of Health has made it possible to register for the third dose of the COVID-19 vaccine officially on Wednesday, October 13, in the early evening. Vaccination with the third dose is voluntary and is intended for immunocompromised patients. In people who are vaccinated with AstraZeneca, a combination of vaccines is allowed. You can consult your doctor.
The third dose from Pfizer is more than 95 percent effective
The booster dose of the anti-peptide vaccine from Pfizer and BioNTech is effective at 95.6 percent. This is according to data from a as yet unreviewed study, which these pharmaceutical companies published on Thursday, inform AFP and Reuters.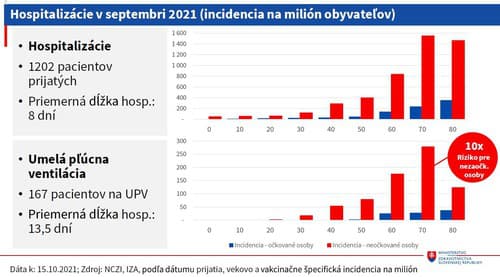 The third phase of clinical trials, in which about 10,000 volunteers over the age of 16 participated, showed, according to "the relative efficacy of the vaccine at 95.6 percent against COVID-19 during the period when the delta coronavirus variant was dominant", the companies said in a statement. The study thus yielded the first results of a clinical trial of a booster dose of the vaccine, showing that the third dose had a "favorable safety profile".
According to Reuters, test participants received the third dose an average of 11 months after the second dose, with some receiving a placebo. In the group that received the third dose, there were later five cases of covid infection. There were 109 infections in the placebo booster group. A comparison of these two data leads to the conclusion that the efficacy is more than 95%. "These results provide further evidence of the benefits of the third dose. We are working to effectively protect people from this disease." Albert Bourla, CEO of Pfizer, said in a statement.
Pharmaceutical companies further said they would submit the detailed results of the study to the US Food and Drug Administration (FDA), the European Medicines Agency (EMA) and other regulatory authorities for review as soon as possible. Both the European and American regulators have previously approved the administration of a third dose of vaccines from Pfizer / BioNTech and Moderna to immunocompromised patients. The decision on which groups of the population should receive the booster dose first was left to the individual states by the EMA.