The survey was conducted exclusively for Zoznam and Topky by the Actly agency. It was conducted on a sample of 1,006 respondents from 17 July to 20 August 2021 through personal interviews using digital technologies.
Archive VIDEO According to Fico, if the president wants to calm the situation in the country, she should run for early elections
Most respondents want early elections
More than two thirds of respondents want early elections. "The appetite for them is gradually growing, with 41 to 43 percent of those who clearly demand them being joined by those who favor them (an increase from 22 to 26 percent). The number of unequivocal opponents of early elections has fallen sharply recently from 18 percent to 13 percent. " explains Actly.
How the election would turn out
If the elections were held in October, 8 parties would get into parliament, with Petr Pellegrini's Voice-SD party winning the election with 21 percent. Robert Fico's Smer-SD party would close behind him with almost 18 percent, and the three most successful parties would currently be closed by the SaS coalition party with a profit of 10.5 percent.
Another coalition party would end just behind SaS – We are a family with 9.4 percent, the fifth OĽANO would be elected by almost 7 percent of respondents. Progressive Slovakia and KDH would also get into parliament with less than six percent, and the last one would get Parliament with 5.1 percent.

The Alliance, elected by 3.9 respondents, the CIS with 3.1 percent, or the smallest coalition party For the People, would not get into parliament. Only 2.8 percent of respondents would have the support. The gates of the parliament would also be closed by Kotleb's ĽSNS, which would be elected by 2.4 percent of the people. Two percent of respondents would vote for Good Choice, one percent of voters would get Together and Life-NS. The Christian Union would end below one percent.
As for the mandates, the winning party Hlas-SD would have the most, namely 39. The second Direction would have 32, SaS 19, We are a family 17, OĽaNO 12, KDH and PS 11 and Republika 9. The current coalition would not be formed. , SaS, We are a family and OĽANO would have only 48 seats. For most of them, it would not be enough if they joined forces with KHD and Progressive Slovakia – they would have only 70 seats.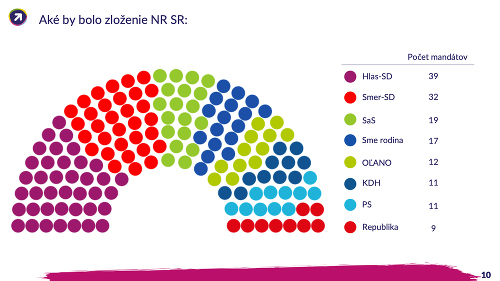 However, if Voice, Direction and We Are Family were to be combined, they would have 88 seats. Most require 76 seats. If they joined only the Republic movement, they would still have a majority, 80 seats.
At present, however, according to the latest surveys, Smer, PS, or the coalition We Are a Family are succeeding in growing. Support for other parties and movements is gradually declining.
Certainly 63 percent of respondents would go to the polls in October, another 24 percent are in favor of this option. Only 13 percent of respondents would not be able to vote.