There were 3470 positive people tested by PCR test, of which almost 74 percent were not vaccinated. The most positively tested in the form of PCR tests has been in the Prešov region for several days, the least in the Trnava region.
677 people tested positive for COVID-19 yesterday in the form of an antigen test, of whom almost 71 percent did not have vaccinations.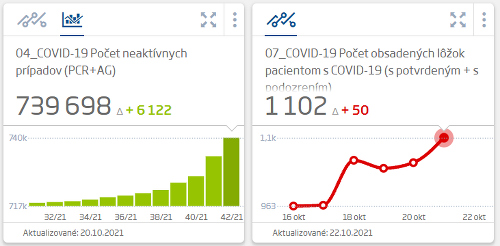 Source: koronagov.sk
There are 1102 patients with or suspected of having COVID-19 in hospitals, of which no more than 80 percent are fully vaccinated. There are 113 patients at JIS, 123 people need the support of artificial lung ventilation.

Source: koronagov.sk
The first dose of the vaccine was given to 1,384 people in the past day, a total of 2,486,664 people in Slovakia have it. The second dose of the vaccine was vaccinated yesterday by 1806 people, fully vaccinated with both doses of the vaccine in Slovakia are 2,289,415 people.