The "Gran Premio Nolan del Made in Italy e dell'Emilia-Romagna" in Misano starts this Friday and mathematically, it could crown two world champions. One in MotoGP and the other in Moto3. The "Misano World Circuit Marco Simoncelli" is also located just 14 km from Tavullia, the homeland of nine-time world champion Valentino Rossi. For his last home race as a MotoGP rider, the yellow "tifosi" will once again celebrate their hero from this Friday which will open hostilities with free practice.
In this regard, the latest decree of the Italian government will allow up to 35,000 fans in the stands every day, 10,000 more than at the first meeting in Misano in September. During the latter, the factory pilot Ducati Francesco "Pecco" Bagnaia had celebrated his second MotoGP victory and the same will be keen to delay the coronation of Fabio Quartararo which nobody really doubts at the end of this season. Three races from the end, the two drivers are separated by 52 points.
On this route located on the shores of the Adriatic, it is Marc Marquez which has the best record with six victories: one in the 125cc category, two in Moto2 and three in MotoGP.
The fight is on all floors in Misano this weekend
The young star of Red Bull KTM Ajo, Pedro Acosta, could win the Moto3 title at the "Gran Premio Nolan del Made in Italy e dell'Emilia-Romagna". However, he must take 21 points to his first rival Dennis foggia on Leopard Honda. The third overall Sergio Garcia (GASGAS) has to give up the third final race of the season and is therefore out of the race for the title.
Finally, everything is open again in Moto2. After the first misstep of Remy gardner, who crashed in Austin, the son of 500 cc world champion Wayne Gardner is just nine points ahead of his teammate Ajo Raul fernandez. With now seven wins in his rookie season, he has already equalized the statistics of Marc Marquez.
What will this Friday, the first day of the second battle of Misano ? Before answering this question, here are the timetables so you don't miss a thing.
MotoGP Misano-2: timetables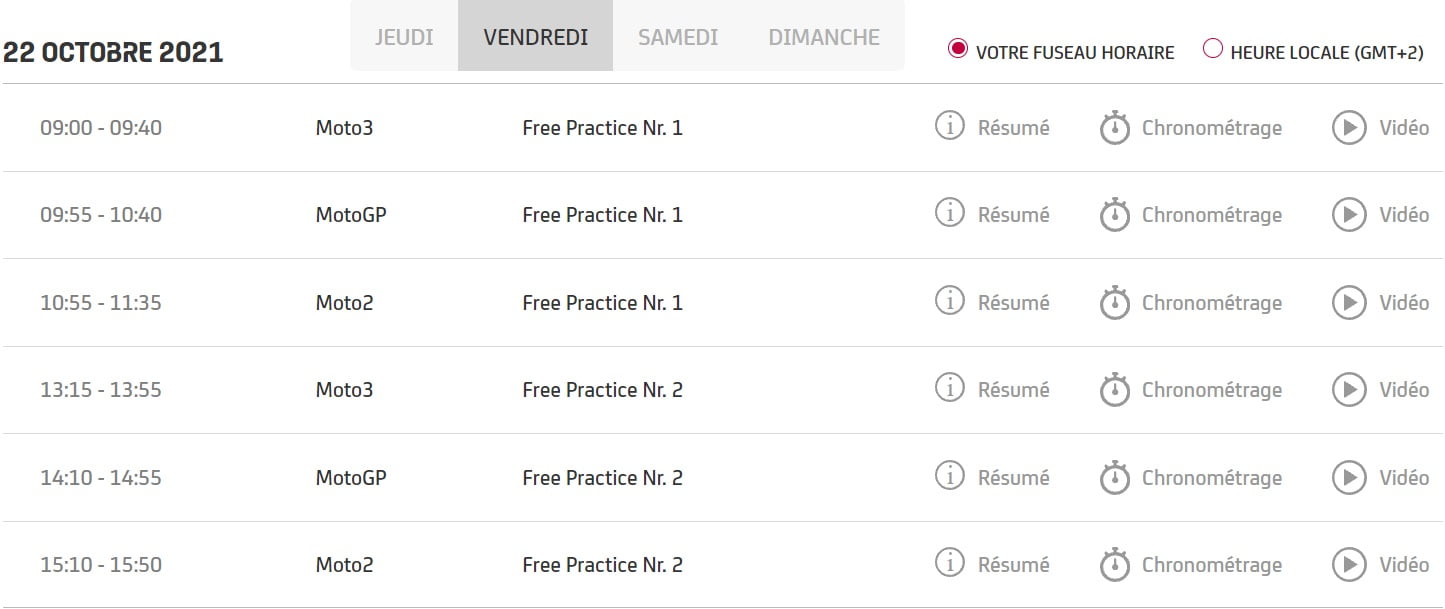 Credit motogp.com