And she is doing well! There is definitely no shortage of current shots in bikinis or sportswear. However, she sometimes reads critical comments from followers, of whom she has more than 800,000, accusing her that she often uses photoshop to edit published images.
The star of the Geissen show – The Hard Life of Millionaires has now "hung" bikini shots on her instagram profile, which she pulled from her archive. As she revealed in the caption, these are shots from the days when there was no photoshop (photo editing program) and when she was 10 kilograms less.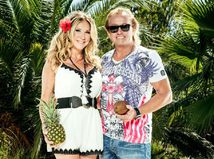 Read more The daughter of millionaire Geissen celebrated 18! Blonde is not after her mother, but in front of the lens she can
As seen in the pictures (click arrow), she doesn't even have a gram of fat on her body and she offers graceful curves to the lens in a light bikini, because she started working out as a teenager. At that time, she also met her husband, Robert. They stood in front of the altar in 1994, raising two daughters, Shani (17) and Davina (18). Their show appeared on RTL 2 screens in 2011.