Laurent Gbagbo is back. The former Ivorian president, returned to the country since June after almost ten years of absence, launches a new political party "Left-wing pan-African", Saturday 16 and Sunday 17 October, with the presidential election of 2025 in sight.
"This is Laurent Gbagbo's big comeback on the political scene", assures Justin Koné Katinan, spokesperson for the former head of state. "It is a major event that will undoubtedly make a date in the political history of Côte d'Ivoire", launched at the congress platform Georges Armand Ouégnin, president of the organizing committee of the event, evoking " a new start " for Mr. Gbagbo who is due to speak on Sunday.
T-shirts, bobs, loincloths, scarves… The effigy of the former president was everywhere, Saturday, at the prestigious Ivoire hotel in Abidjan, where more than 1,600 "Conventioneers" were expected. Outside the establishment, a long line of activists was emerging in the morning, in the hope of seeing the former head of state, in power between 2000 and 2011.
Acclaimed on his arrival around 1 p.m., Mr. Gbagbo, dark suit and FFP2 mask on his face, greeted at length an audience of executives and former ministers of the Ivorian Popular Front (FPI), his former party.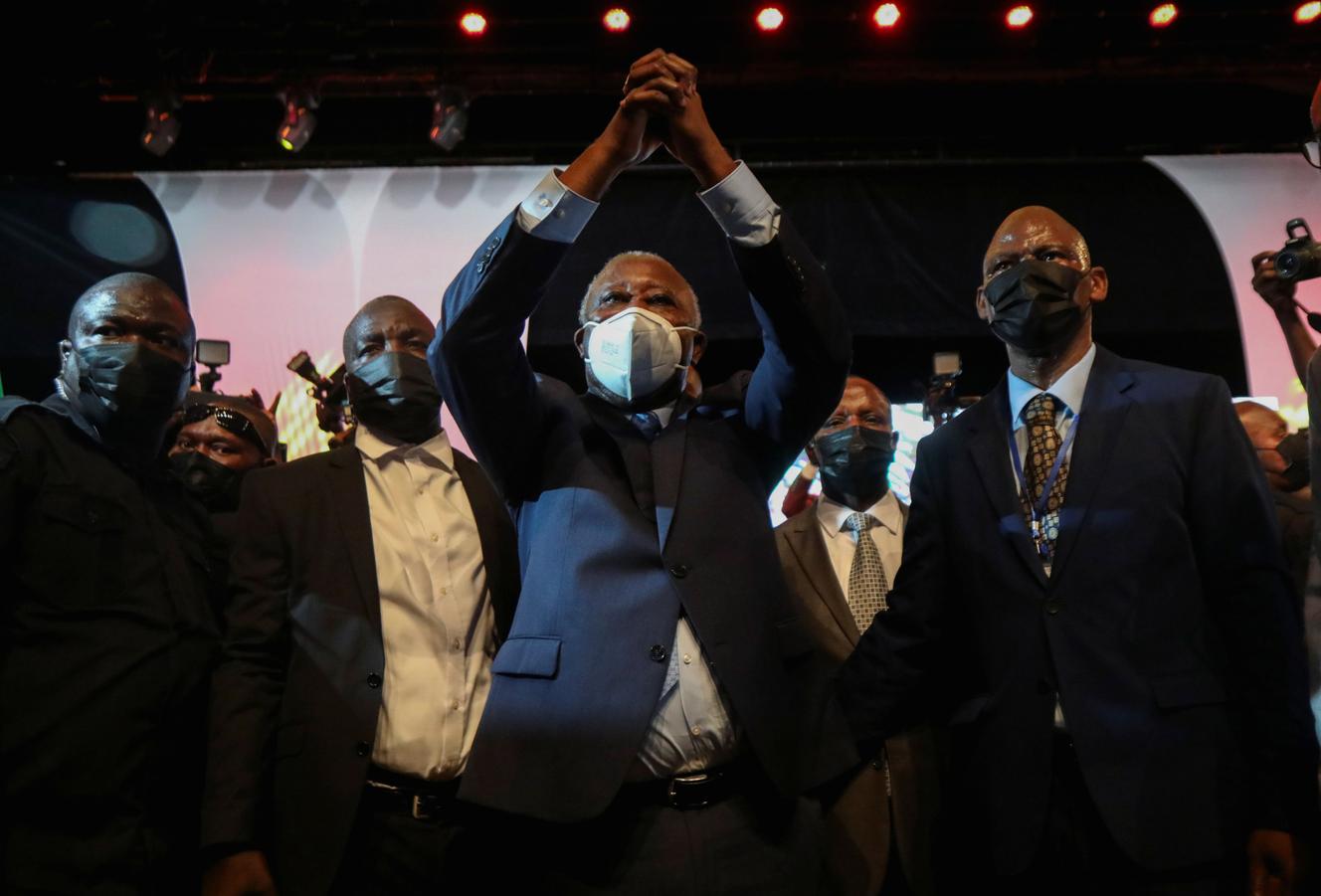 Omnipresent on the political scene
Since his return to Abidjan on June 17, acquitted by international justice who tried him for crimes against humanity in the bloody post-election crisis of 2010, Mr. Gbagbo has been omnipresent on the political scene. Visit to the former president and former rival Henri Konan Bédié, meeting with "Reconciliation" with the Head of State, Alassane Ouattara, a consummate break with his former Prime Minister Pascal Affi N'Guessan: he immediately became again a leading player in Ivorian political life.
Sign of a certain relaxation with Mr. Ouattara, the number two of the party in power, Adama Bictogo, was present, Saturday, at the congress for "Translate the president's desire to strengthen reconciliation".
Since the FPI (his historic party, founded underground in 1982) is now in the hands of Mr. Affi N'Guessan, Mr. Gbagbo, 76, has chosen to breathe new life into his return by creating his own party, which should be called "Party of African Peoples – Ivory Coast" (PPA-CI). In the name as in the logo – two hands intertwined in a map of Africa – which will be offered on Sunday, the emphasis is on the pan-African dimension of the party.
The remarkable absence of Simone Gbagbo
"We see that he spent ten years away, but that he has not stopped thinking about the future of Côte d'Ivoire and Africa", believes Hubert Oulaye, former employment minister. "We are waiting for his voice. I like that it's a Pan-African party, because when we are not united, we do not have the strength. Reconciliation will pass through him ", assures Napo Cassaï, an activist from the Soubré region (west). "Laurent Gbabgo is the only one who can give us real independence: gold, oil, cocoa for us", adds Behi Gbehi, a sexagenarian who took a night bus to come from Daloa (center) to attend the congress.
However, there is no question of abandoning national politics in Côte d'Ivoire. In the entourage of the former president, the slogan is clear: this new party aims to recreate a political debate in a country where the opposition has been considerably weakened for ten years.
It remains to be seen which Ivorian political figures will join this platform. If a majority of FPI executives followed him in this new adventure, some unknowns remain.
In particular that of the role of Simone Gbagbo, whose absence was noticed, Saturday. Traveling in the Democratic Republic of the Congo, the former first lady, from whom Mr. Gbagbo recently requested a divorce, multiply the signals to trace its own political path.
"Those who want to join us know what to expect. We are a left party and those who meet there can come ", slips Justin Koné Katinan. The launch of this party, four months after the return of Mr. Gbagbo to Côte d'Ivoire, is in any case a first step towards the presidential election of 2025. A project of the executive aimed at limiting the age of candidates to 75 years, however, could be an obstacle to the ambitions of Mr. Gbagbo, who will be 80 years old in 2025.