The analyst also said that the epidemiological situation with the new coronavirus had worsened again compared to the previous week. From Monday, there will be five districts in Slovakia in black. The positivity of the performed PCR and antigen tests is also growing.
Mišík explained that there are currently about 100 more cases in hospitals for the new coronavirus. By the end of October, there could be about 150 to 200 cases a day in hospitals, and by the end of the month, they expect a total of 1,200 to 1,600 patients. He also pointed to "large regional differences" in relation to the epidemiological situation.
Minister of Health Vladimír Lengvarský (OĽANO nominee) stated that they would not want to restrict travel for the autumn holidays. However, it is not yet clear whether the measures will change. He called on people to comply with the measures.
Video: Minister of Health Vladimír Lengvarský and Head of the Institute of Health Analyzes Matej Mišík on the current epidemic situation.
We are updating the report…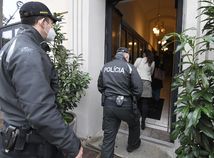 Read more The first black districts in the third wave. Which will it be?