archive video
In addition to other witnesses, the court also wanted to hear František Kabrhel, the former husband of the well-known television character Nora Kabrheľová, formerly Mojsejová, as a witness in the case of former counterintelligence Gašparovič. Kabrheľ is known by the nickname Versača. The police could not find him because his address of permanent residence is unknown.
Kabrheľ used to alternate in the east, in Nitra and Bratislava. He also owns a villa in Florence, where he stays most often. In July, he appeared in the Nitra District Court as accused of the crime of theft and house freedom.
The prosecutor charged the court with a particularly serious crime of accepting a bribe. It follows that they should both have participated in the annulment of the interim measure issued by the Criminal Office of Financial Administration (KÚFS), which blocked the assets of Bopal. They were to help reverse the KÚFS decision, to agree to accept a bribe of 400,000 euros, which they were to distribute to other persons.
Finally, an advance of EUR 200,000 was to be paid. If they prove guilt in court, they face a term of imprisonment of ten to 15 years. Defendants claim to be innocent. They refuse to accept a bribe. At the end of July, businessman Dušan Bočkay testified in court, claiming that former SIS counterintelligence chief Peter Gašparovič should have demanded a bribe of 400,000 euros from him for unblocking Bopal's assets. According to him, the police should have blackmailed him. Bočkay's ex-partner Martina Krištofová also testified. She said her former partner was not being blackmailed by police, but she was knowingly paying for services in an attempt to eradicate the crime.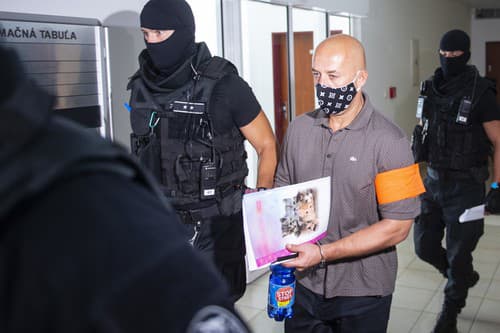 Source: TASR
Action Judas
The couple Gašparovič and Ladislav Vičan were detained at the beginning of December 2020 during the Judas action. The National Criminal Agency (NAKA) charged eight people with it. Among the accused were former President of the Police Force (PZ) Milan Lučanský and former SIS Deputy Boris Beňa, as well as other former SIS representatives and former high-ranking officials of the Police Force and the Financial Administration.
They were accused of corruption and one person of founding, conceiving and supporting a criminal group. Lučanský attempted suicide while in custody at the constitution in Prešov and died on 30 December 2020. They stopped the prosecution against him. Former SIS Deputy Beňa concluded an agreement on guilt and punishment. He received a three-year sentence with a suspended sentence of five years.