The pair will soon have their first common offspring. The 45-year-old moderator also revealed this on Instagram, where he published a shot with a stork. With a funny sentence from the popular Czech film "How to Get Daddy to the Correctional Facility", he announced to the world that the baby would be born in March: "The kangaroo will arrive in March," wrote one of the coolest Czech moderators.
For Mareš, this is the third offspring, he has two sons from his previous marriage – Jakub (15) and Matej (11). He also posed with them in front of the lens a few days ago and pleased the fans, who have 1.1 million on Instagram.
Leoš Mareš (45) and fashion editor Monika Koblížková (40) became married in 2018, they said "yes" at the castle in Litomyšl and the couple brought with them only parents and witnesses. They got engaged in 2017 after two years of dating.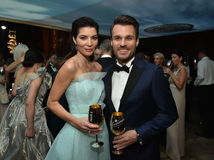 Read more Leoš Mareš married Koblíková's love. The wedding was secret!
Leoš Mareš's first marriage lasted since 2008, he divorced his wife in 2017, but they have not lived together for some time.