The organizers of the Tour de France did not sue the 31-year-old woman, but in the end she will not miss the civil trial. This is reported by radsport-news.com.
According to the Ouest France periodical, a woman is being prosecuted for a general risk of negligence and injuries that result in incapacity for work not exceeding three months.
The trial will begin on Thursday in Brest at exactly the time of the ceremonial presentation of the Tour de France 2022 in Paris. The woman faces a year behind bars and a fine of 15,000 euros.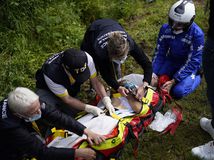 Read more VIDEO: A madman dropped the whole peloton at the track. Sagan was also in the collision
The incident during the opening stage of this year's Tour de France was really unnecessary. The inattentive fan held a sign in her hands with the salutational inscription "Allez Opi-Omi" to her grandparents, and as she turned her back on the incoming cyclists, she did not notice them.
The first of them, Tony Martin, rushed into her at high speed and then fell. Then the same thing affected most of the racers who followed him.
Several of them suffered various types of injuries from the accident. The spectator disappeared from the crime scene immediately after the unexpected event, but later she reported to the police herself.
ASO, as the organizer of the Tour de France, withdrew the action for reasons of general peace, but pointed out the negative consequences of such acts. However, the Association of Cycling Professionals (CPA) has not given up its initiative to take the case to court.
"It was a really irresponsible act that had serious consequences for the riders. We are not talking about money, but about increasing the level of respect and responsibility of people towards cyclists, "said CPA Secretary General Laura Morová.