Martin Fehérváry survived and before the night's first duel of Washington in the current season, he won a place in the first team.
"It's different than it was two years ago, but I'm still looking forward to it. I've worked hard all my life to get into and stay in the NHL. I believe I can do it all season.
I have more experience, I'm two years older. I played a lot of AHL matches, which helped me. I gained the necessary self-confidence on the ice, "he told Fehérváry's club television.
The 22-year-old defender started in the first defensive pair with the experienced John Carlson in training.
"He is one of the best defenders in the league. I appreciate this opportunity and I believe that we will play together in matches,
It will be important for us to be sure in the back and create something in front, "the Slovak representative continued.
He admitted with a smile that he still lived in the hotel, as he had not yet found housing. He is not focusing on that at the moment. The priority is a good start of the team until the season.
"I'm a little under pressure, but I'm working on the mental side. Fishing helps me with that. When I was at home, I went quite often. I've only been to the US once, but I'll definitely go again. However, the priority is hockey, "smiled the native of Bratislava.
He is one of several players who got into the first team from the camp, which was also registered by the biggest star of the team, Alexander Ovechkin.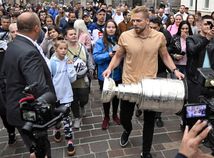 Read more The NHL releases kraken. Will Černák reach for the golden hat-trick?
"They deserve their place. We have predatory boys on the team. Fehérváry already has some experience in the NHL. They are young, full of vigor. I am glad that they are with us, "said the experienced Russian.
What would Captain Capitals wish them?
"So that they can really enjoy it and are not afraid to play with the puck. They are good enough to play in the NHL, "added Ovechkin.