The President must then convene the sitting within seven days of the motion being tabled, in accordance with the Rules of Procedure. "Above all, we don't see any tangible solutions in terms of rising energy prices, and they are going up. In addition, we seem to make fun of everyone. It says that the market will solve everything, that nothing will need to be regulated. It makes fun of people who have lost their jobs, when he says that labor offices need to be abolished, " said Fico. He went on to say that Sulík proved to be an arrogant man. On Wednesday, Fico wants to address non-attached deputies around Tomáš Taraba. "If we agree on a common approach, we will submit this proposal in an express short time," added Fico.
He also commented on Thursday's (14 October) extraordinary meeting, which is to focus on the protection of agricultural and forest land in Slovakia. He declared that they still insisted on it with the deputies. "We have a provision in our constitution which states that it is possible to restrict the right to property when it comes to the food security of the state. We are talking about land, forests. This undoubtedly affects the food security of the state. tomorrow the meeting of the National Council of the Slovak Republic was, and we will ask the government, to submit to the negotiations the constitutional protection of the agricultural and forest land fund, " Fico stated.
Remišová also reacted
The Coalition Party For the People will not support the dismissal of the Minister of Economy Richard Sulík (SaS) from the Smer-SD initiative. This was told to reporters by the party's chairwoman and minister for investment, regional development and informatization Veronika Remišová (For the People) during the tripartite meeting on the budget. "Of course, we will not support the dismissal of Sulík, we have already made it clear that we will not support the dismissal of any minister of this government when initiated by the opposition, whether Robert Fico (Smer-SD) or Peter Pellegrini (unclassified)," said the minister.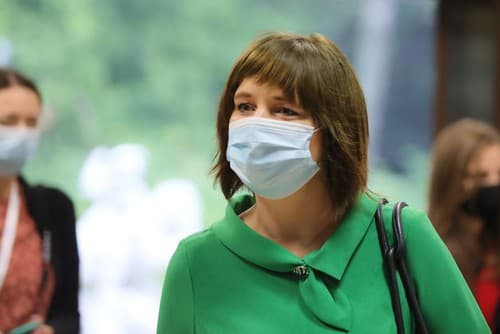 Source: Topky / Vlado Anjel
She criticized that the only purpose of the current opposition was to recall someone, because she said she could not do anything constructively. "Overall, if I have to evaluate the work of the opposition – and I was also in opposition – then, when we look at its proposals, constructive is the minimum," remarked the Minister. She emphasized that she did not know a country where the two former prime ministers would follow the motto "the worse, the better", thus referring, for example, to the attitude towards vaccination against COVID-19.