20,362 antigenic tests performed another 346 positives, almost 76 percent of which have not yet been vaccinated. This was stated by the Ministry of Health (MZ) SR on its website.
The total number of completed laboratory PCR tests so far is 3,651,684, with 419,473 people tested positive. The total number of antigen tests performed so far is 38,465,631, of which 394,184 were tested positive.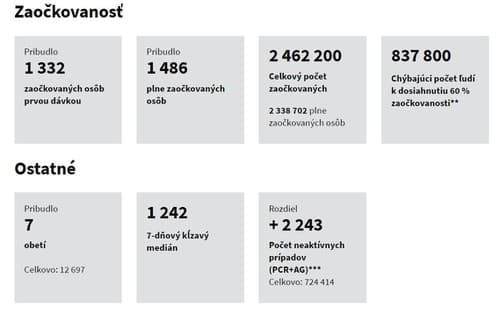 Source: korona.gov.sk
The most positively tested RT-PCR tests were in the Prešov Region (430), followed by the Žilina Region (387), Košický (345), Trnavský (220), Banskobystrický (209), Bratislavský (164), Trenčiansky (119) and the Nitra Region ( 97). "Among them are 897 men and 1074 women," specified by the Ministry.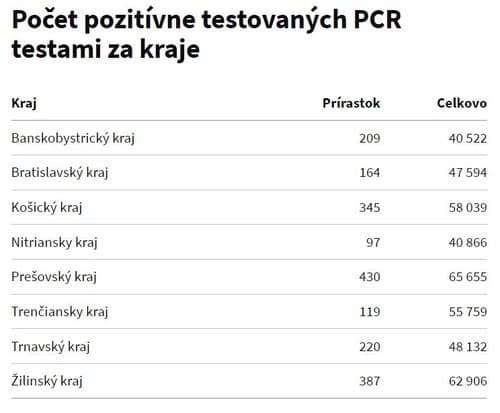 Source: korona.gov.sk
753 patients are hospitalized in hospitals, 691 people have confirmed the disease. Among hospitalized, 83.47 percent of people are not vaccinated or only partially vaccinated. There are 83 patients at JIS, 76 people need the support of artificial lung ventilation.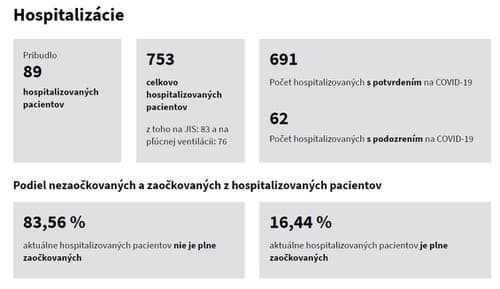 Source: korona.gov.sk
The number of confirmed victims of pulmonary COVID-19 has increased by seven. The total number of deaths "on covid" is 12,697 and the total number of deaths "with covid" is 2479.

Source: nczisk.sk
The total number of people vaccinated with the first dose of the vaccine is 2,462,200, with 1332 vaccinated the previous day. The second dose of the vaccine has already been received by 2,263,995 people, and 1,250 people have been vaccinated the past day.

Source: nczisk.sk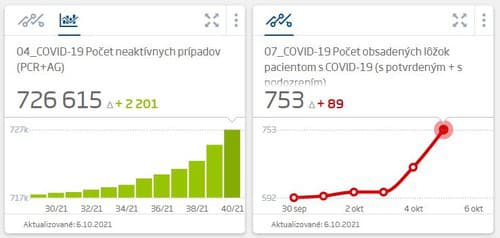 Source: nczisk.sk