Slovakia presented the MH2 hydrogen-powered sports car at the Expo Dubai world exhibition. The concept was prepared by Matador Group with the Faculty of Mechanical Engineering of the Technical University in Košice.

TASR,
The truth,
eco

10/05/2021 15:30
Photo:

Richard Sulík – facebook
The first Slovak hydrogen car premiered in Dubai.

The Slovak patent was unveiled at the world premiere by chief designer Branislav Maukš and Minister of Economy Richard Sulík (SaS). Lucia Mozolová, the media representative of the Slovak exposition in Dubai, informed about it on Tuesday.
"At Expo Dubai, we have the ambition to introduce ourselves to the global audience as a land of natural talent and innovative solutions, whether in the field of mobility or sustainability. Hydrogen technologies are related to this. Hydrogen is the future and we want to be prepared for it, as one of the effects of introducing hydrogen as the fuel of the future is a significant reduction in emissions, "said Sulík.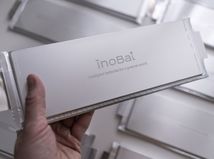 Read more The Slovak patent surpassed the market leader. InoBat introduced the first batteries
Dean of the Faculty of Mechanical Engineering TUKE Jozef Živčák made it clear that the hydrogen concept of the MH2 car uses a specific method of hydrogen storage, which requires intelligent temperature management. The main advantage of this solution is high safety and relatively low energy requirements of storage.
"At the Faculty of Mechanical Engineering of our university, we have several top experts who have been working for many years on hydrogen technology and its effective application in real transport. We are very happy that this project with the Matador Group got the green light and we gave these clever people the opportunity to excel and use their knowledge on a real project, "said Živčák.
The World Expo Dubai 2020 opened the gates for visitors on October 1. In the Slovak pavilion, in addition to the MH2 concept, visitors will see, for example, a 3D model of cleaning the oceans – the eighth continents or a hydrogen bus. The exhibition lasts until the end of March 2022 and visitors will be introduced to exhibitors from 192 countries.