Today, the opposition again tried to remove Roman Mikulec (OĽaNO) from the position of Minister of the Interior. There were 53 deputies present and therefore the National Council (NR) of the Slovak Republic did not have a quorum.

SITA,
The truth

09.09.2021 08:22, updated: 14:51
The meeting was initiated by the opposition Smer and non-attached members of parliament. The plenary did not have a quorum twice on this item on 30 and 31 August. Smer also requested a meeting on Mikulca's dismissal in July. However, even then, the legislature did not have a quorum, and this meeting was postponed until September.
The coalition parties Ordinary People and Independents (OĽaNO), Freedom and Solidarity (SaS) and For the People used a parliamentary obstruction at the end of August. Only the fourth coalition party, We Are the Family, presented itself and wanted to negotiate the dismissal of Mikulca, as it has long-standing reservations about the Minister of the Interior.
Read more The government does not agree with the motion of censure on Mikulc
"We cannot wait until September before the governing coalition decides to negotiate Mikulc," says Smer-SD chairman Robert Fico. According to him, Minister Mikulec is suspected of corruption, abuse of power by a public official and "is the father of the idea" to interrupt the intervention of the police inspection against three crimes. "He is the one who controls and manages the group of police officers who are reported by the SIS report as criminal proceedings are being manipulated," the head of Smer-SD told Mikulca.
On August 30, the Minister of the Interior stated that he was not afraid of the proposal for his dismissal from office, as he was used to the fact that the agenda of the chairman of the Direction, Robert Fico, was to dismiss only on the basis of unsubstantiated facts and conspiracies.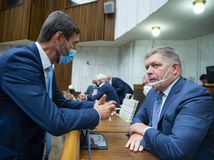 Read more Deputies did not even get to Mikulec's appeal on the fourth attempt