Many have seen it, some have even heard it. Monday, September 6, in the middle of the afternoon, the participatory science site Vigie-Ciel – devoted to the observation of shooting stars, in search of meteorites and impact craters – had received more than 370 testimonies reporting the entry into the atmosphere of a celestial bolide, Sunday, September 5, at 11:47 p.m. .
White, green, orange … a luminous trail was seen in Plougastel-Daoulas, Kervignac or Guilvinec, in Brittany, but also in Tollevast or Grugny, in Normandy, in Bures-sur-Yvette or Noisy-le-Grand, in Ile -de-France, in Cherré, in Le Mans, or even in South Milton and Bovington in England…
It would be a meteorite. The luminous object is in any case clearly visible on the webcam of the port and the dam of A… https://t.co/UA3jKUKOCb
A webcam located at the top of the town hall of Le Havre captured the entry into the atmosphere of the meteor at around 11:47 pm… https://t.co/jQT56BsXwb
The phenomenon has been immortalized by webcams in Arzal and Bono, in Morbihan, in Plougonvelin, Ploudalmézeau and Douarnenez, in Finistère, but also in Jullouville (in Manche) and the town hall of Le Havre or on the Port of Southampton.
@UKMeteorNetwork This clip taken from @ShipsSolent Southampton Ferry Cam looking westwards at 2247 tonight (… https://t.co/zbHd5Cx5Yl
Glow, noise, fear of a "nuclear attack"
"From top to left to bottom to right", write in their observation report Bruno F., in Tollevast, in the English Channel, Didier L., in Porspoder, in the Finistre, Ronan D., at Le Mans, Where Alex N. in Pontivy, in Morbihan. Rosalind K., in Saint-Hellier, on Jersey Island, writing : "It was the biggest thing I have ever seen in the sky. "
In Kernouës, in Finistère, Benedict L. announces that the conditions of observations were not favorable because of a rather thick fog. He describes a "Intense light however, high magnitude, similar to a near full moon, observed on a full west axis". Above all, it evokes a "Thump a few moments later".
In Gloucester, in the south-west of England, near Wales, James F., an airline pilot, describes the phenomenon he observed from an airplane: "We saw him on our way back to Bristol Airport. We were about 20,000 feet [environ 6 000 mètres], above the clouds, the sky was completely illuminated, a beautiful emerald green color with an orange center. What an absolute privilege to have been able to witness this. "
In La Martyre, in Finistère, GL rating than "The earth shook". Claude P., in Plogoff, said to himself "Impressed by the bright light and the very large and long illumination" and evokes "Thunder and vibrations two minutes later". "This is the first time I've seen this. I even got a little scared. I even thought of a nuclear attack ", writing Manuel L., at Cast, in Finistère.
Mysterious flash of light, followed by a big "boom", around 11:50 pm in Finistère (#Bretagne): visible as far as Douar… https://t.co/TNE9qhjgWA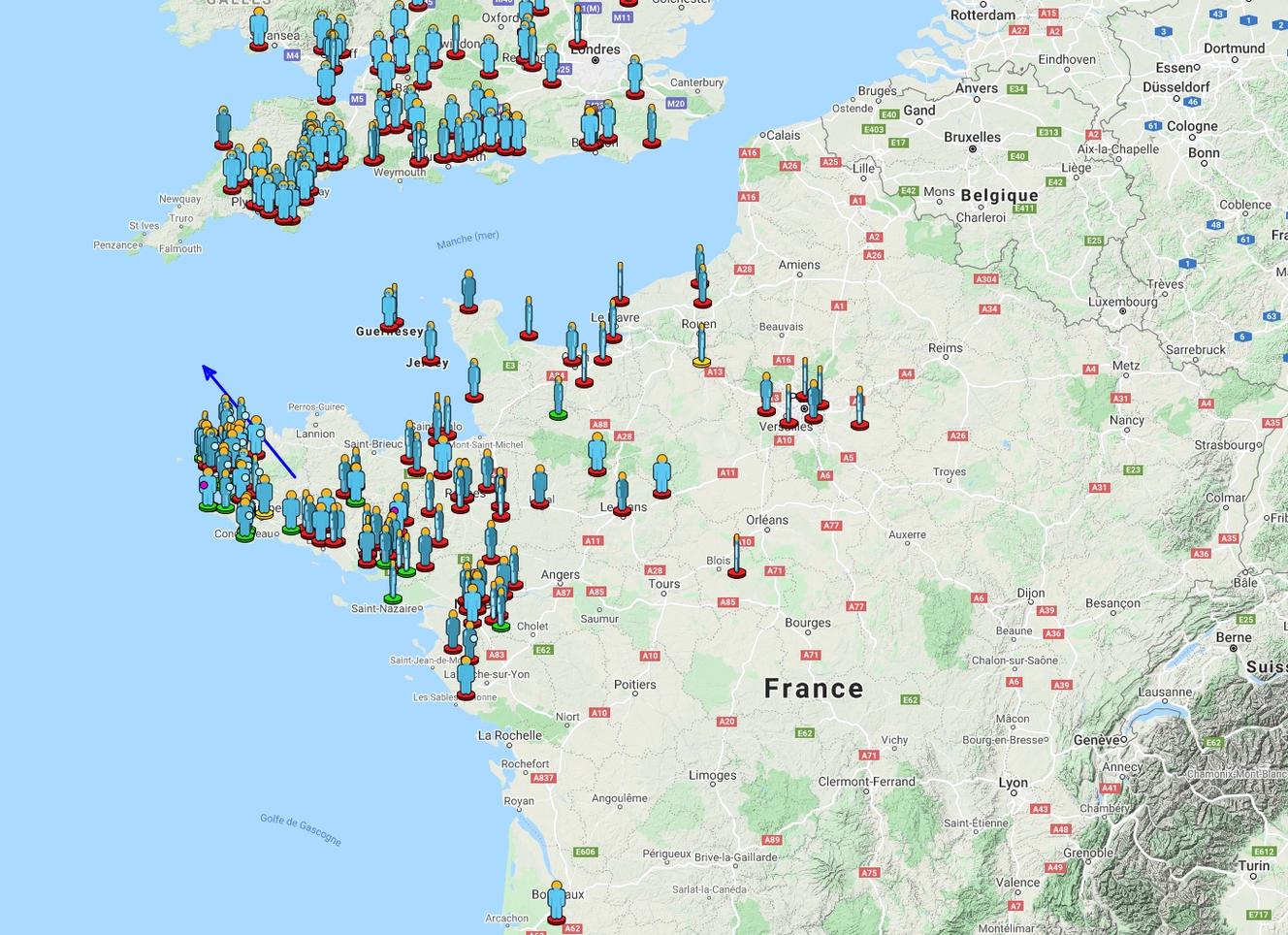 Sylvain Bouley, professor at the University of Paris-Saclay and president of the Astronomical Society of France, explains "That it is in no case an artificial object" – end of rocket or satellite – that "The car has all the characteristics of an asteroid". "From experience, he must have measured a few tens of centimeters, not even a meter", he specifies. "The object went very quickly and disintegrated, hence the high luminosity", adds Brigitte Zanda, meteorologist and teacher-researcher at the Institute of Mineralogy, Materials Physics and Cosmochemistry.
Fell in the English Channel
In Kervignac, in Morbihan, Christophe D., evoked "Chelyabinsk without sound", referring to the explosion of "Chelyabinsk superbolid", the February 15, 2013, which measured 19 meters in diameter, weighed 13,000 tons and sped at a speed of 20 kilometers per second. "Very large objects, those that have a kilometer size, are spotted, but not those that are 20 or 30 meters, like the one in Chelyabinsk", resumes Brigitte Zanda. She notes that objects "Metric" and "Plurimetric", it falls regularly.
As for noise, "A supersonic boom is possible: these are phenomena regularly heard", adds Sylvain Bouley. He confirms that we observe a few meteor falls each year in France, between two and five. "Some of them arrive during the day, others at night, and we don't often find any fragments. " For that of Sunday evening, its trajectory – which the Vigie-Ciel network is still in the process of optimizing – suggests that it fell in the English Channel. And that we will not find any meteorites.
Do not confuse meteor and meteorite
Because what was observed Sunday evening is a meteor (or a celestial bolide), a phenomenon commonly known under the name of shooting star. It is the luminous trace left by the entry into the earth's atmosphere of a more or less voluminous pebble, which is called a meteoroid. The meteorite is the name given to a piece of meteoroid found on the ground.