The first defeat in the fight for Qatar came at the most inopportune time.
Photo:

TASR

,

Jaroslav Novák
Róbert Boženík (Slovakia) during the March match with Malta.

Slovak footballers on Saturday night they were not enough for the Croats and fell after a goal by Marcel Brozovič from the 86th minute.
After winning and three draws, they recorded their first failure in the MS 2022 qualification. In the H-group table, they are in 4th place with 6 points and the progress to the championship has moved away from them.
According to the respected expert and president of the Union of Football Coaches of Slovakia Ladislav Borbély, the problem is the lack of attackers.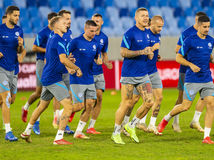 Read more Weiss trained Hanck. After the sentence, he laughed at Škriniar
"We suffer from spinal insufficiency syndrome. We have a hole in the post of a medium striker like after a meteorite crash. The position is enormously important for the result, the striker finalizes the efforts of the whole team. If we had a quality finisher, the result against Croatia would be different, "said Borbély for sport.sk .
His words are also proved by numbers. The Slovaks scored only five goals in five matches. Although the Croats have the same number of accurate hits, they have already managed to score ten points.
On Saturday, Ivan Schranz started the attack, who was replaced by Róbert Boženík after an hour of play.
"Boženík is undefeated and developmentally slowed down. He has the instincts of an attacker, they woke up at the goal header in Slovenia. Everything else was weak.
Read more OPINION: Slovaks are in the red after half time. They have a serious problem
He demonstrated it against the Croats, when he got into two goal positions. Once he read the game weaker and the second time he failed to finish technically. Such opportunities must change at the international level, "says Borbély.
The native of Trenčín nevertheless believes that the young forward has the potential to become a mainstay of the national team.
"I trust him that he will take over and complete his player development. He needs to radically increase his match practice, no talent has yet become a good footballer on the bench. The same goes for David Strelec, "added Borbély.
On Tuesday, the Slovaks will get a chance to improve their goal balance, from 20.45 guests on Tehelná pole in the table will be the last Cyprus.