According to the Ukrainian Ministry of Foreign Affairs, the Russian Federal Security Service (FSB) detained five Crimean Tatar activists on Friday and Saturday, including Nariman Dzelal, vice-president of the Medlis (informal parliament of the Crimean Tatars). Ukrainian Ombudsman Ludmyla Denisova added that the FSB had searched their homes. In response, more than 50 Crimean Tatars gathered in front of the FSB branch in the Crimean city of Simferopol and protested against the detention of their species.
"As a result, more than 50 Crimean Tatars have been detained," wrote Denisovová on Facebook. "They were forcibly thrown into buses, beaten and taken to various police stations in the temporarily occupied Crimea, where they are interrogated without the presence of lawyers." said Denisova. She added that there were two journalists among the detainees, and urged "the whole international community to use all possible leverage … to end the repression of indigenous peoples".
Ukrainian President Volodymyr Zelensky on Twitter called for the release of detained Crimean Tatars: "The people of Crimea have again resorted to the persecution of Crimean Tatars. There are regular raids and detentions in their homes. All detainees must be released!"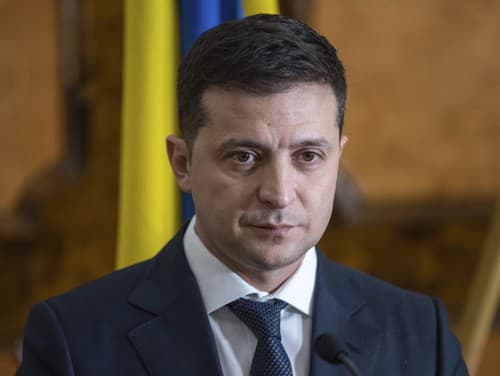 Source: SITA / Ukrainian Presidential Press Office via AP
The Ukrainian Foreign Ministry stated that the latest wave of detention was "retaliation for attending the inaugural summit of the Crimean Platform" and represents "the latest in a series of repression by Russia aimed at intimidating representatives of the Crimean Tatar and expelling them from the temporarily occupied peninsula".
Last week, Ukraine hosted the Crimean Platform, an international summit aimed at putting pressure on Russia in connection with the annexation. The fate of the Crimean Tatars was one of the most important issues on the agenda.
The Crimean peninsula was part of Ukraine until Russia assigned it to its federation in 2014 based on a controversial referendum. Ethnic Russians, who make up the majority of the 2.3 million people in Crimea, widely supported the Russian annexation, but Crimean Tatars, who made up almost 15 percent of the population, opposed it. Since 2014, approximately 30,000 Crimean Tatars have fled Crimea. Some who remained faced the intervention of Russian authorities. According to the human rights organization Amnesty International, the Crimean authorities have convicted about 80 Crimean Tatars on various charges and 15 activists are missing.