At least 17 people were killed Friday in a celebratory shooting in Kabul in response to unconfirmed reports that the Taliban militant had conquered Punjir, the last Afghan province to resist. Reuters reported on Saturday.

TASR

04.09.2021 16:03, updated: 21:30
Photo:

SITA / AP

,

Rahmat Gul
Taliban fighters patrol in Kabul.

According to the local agency Shamshad, 17 people died as a result of the shooting in Kabul and another 41 suffered injuries. The situation is not entirely clear, with the Afghan news station TOLO News initially reporting the same number of deaths and injuries. Later, however, she denied this information and so far reported only a lower number of victims and injured, who were reported from one of Kabul's hospitals.
Another 14 people were injured on Friday in a similar celebratory shooting in Nangarhar province east of Kabul. This was stated by a spokesman for one of the hospitals in Jalalabad, the capital of the province.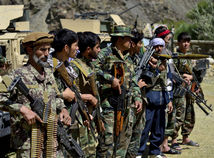 Read more The Taliban allegedly seized the rebellious province of Punjir
Taliban spokesman Zabihullah Mujahideen rebuked the movement for celebratory gunfire. "Avoid shooting in the air and you better thank God," he wrote on Twitter. "Bullets can hurt civilians, so don't shoot unnecessarily," he added.
Insurgent leaders in Punjir reject claims to conquer the province. Ahmad Masoud, the leader of a resistance group called the National Resistance Front, said on Saturday that the rebels would continue fighting and would never give up. Amrullah Salih, a former Afghan vice president and now also one of the rebel leaders, said on Friday night that opposition to the Taliban continued. He also denied any allegations that he should have fled the country.
The airport reopened for humanitarian aid
Kabul Airport is reopened and can receive humanitarian aid, according to the Qatari ambassador to Afghanistan. At the same time, it should soon be ready for civil flights, the ambassador, who was quoted by al-Jazeera pan-Arab television, said on Saturday.
According to him, the airport's runway was repaired in cooperation with the Afghan authorities. Al Jazeera also reported that two domestic flights had been sent from Kabul Airport to Mazar-i-Sharif and Kandahar.
Unexpected visit
Meanwhile, an influential head of the Pakistani secret service unexpectedly visited Kabul. This was stated for the AP agency on Saturday by two Pakistani officials, who spoke on condition of anonymity, as they are not authorized to communicate with the media. It is not immediately known what General Faiz Hamid wanted to negotiate with the Taliban leadership. The AP recalls that of all foreign actors, the main Pakistani intelligence service ISI probably has the greatest influence on events in Afghanistan.
The Taliban leadership was based in Pakistan, and its direct contacts with the ISI were often mentioned. Pakistan has repeatedly denied providing military assistance to the Taliban, although such allegations have often been made by the Odafgan government and Washington.