Fortunal club FC DAC 1904 Dunajská Streda strengthened its offensive with Hungarian striker János Hahn and Belgian winger Thibaud Verlinden.
Photo:

TASR

,

Jakub Kotian
Dunajská Streda footballers in the archive image from the training.

Twenty-six-year-old Hahn came to Žitný ostrov with the business card of the top scorer of the last season of the Hungarian highest competition. Paksi FC scored 22 goals in 28 games and added five assists. He signed a two-year contract with DAC, with an option for another season.
Hahn spent his entire career at Paks FC with a short exception in the 2013/14 season, when he worked at the Puskas Academy. Last year, he also won a place in the national jersey, which he has worn twice so far.
"I am very happy and looking forward to joining the new teammates. I know that in the first match we are playing against Slovan, which is a real derby.
I know the past and present of the club and I believe that I will know its future. I am really very happy for this opportunity.
I come with the aim of helping the team with goals, as soon as possible to fit into the team and possibly also contribute to winning the championship trophy, "Hahn told the club page, who scored four goals in the opening four league duels of this season.
Twenty-two-year-old Verlinden, a former Belgian youth representative, came to Danube Wednesday from Fortuna Sittard in the Netherlands, signing the contract by the end of the current season.
He inherited his football genes from his father Dany Verlinden, a former goalkeeper and participant in the 1994 and 1998 World Championships. Thibaud spent his youth in the academy of FC Bruges, Standard League and Stoke City, England.
Later he also worked in the German St. Pauli and in England, in addition to Stoke, also in Bolton. In January of this year, he joined the team of the highest Dutch competition Fortuna Sittard.
"Last week I went to see the stadium and the academy. Everything is new and beautiful. I'm looking forward to a new challenge in a new country and also to meet the fans. I'm very happy.
First of all, I want to play for as many minutes as possible and help the team to the best possible position. The success of the team is paramount for me.
I can start on the right and left wing and my style is best suited by frequent dribbling, center in front of the goal and frequent shooting, "said Verlinden.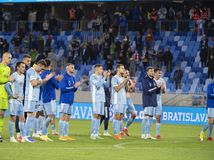 Read more Slavs report reinforcements. Frost, a Nigerian and a Brazilian Swiss are coming