Former Prime Minister and current Minister of Finance Igor Matovič (OĽANO) were not extended with increased protection, so it ended at the end of July.
Photo:

TASR

,

Martin Baumann
Minister of Finance Igor Matovič (OĽaNO) during the 28th meeting of the Government of the Slovak Republic on 31 August 2021.

This was confirmed for TASR by Gabriela Tuchyňová from the press department of the Ministry of the Interior (MV) of the Slovak Republic. "Currently, the former prime minister is provided with the protection that belongs to a member of the government," she added.
As a former prime minister, Matovič was entitled to protection for 90 days from the end of his term at the head of the government cabinet. After the expiration of the term, temporary protection for one month was granted to him by the Minister of the Interior Roman Mikulec (OĽANO). The reason was the persistent safety risks and possible threats to life and health.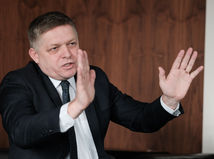 Read more Fico no longer has security, he doesn't want to be under Matovič's control