The International Football Federation (FIFA) has started investigating racist incidents in Thursday's World Cup 2022 match between Hungary and England (0: 4).

TASR,
SITA

03.09.2021 15:06, updated: 16:16
Photo:

Tibor Illyes
Flare on the lawn in Budapest's Puskás Arena during Hungary's match with England.

The Prime Minister of the United Kingdom, Boris Johnson, also called for strong action.
The main targets were Raheem Sterling and Jude Bellingham.
Deafening taunts were heard from the stands when the English knelt before the initial kick-off, items flew at Sterling after the opening goal in the 55th minute, and Bellingham was to be the target of racist shouts while warming up off the field.
In addition, various objects, including flares, flew from the stands to the lawn.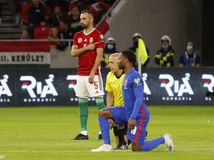 Read more The English were kneeling, Budapest was whistling. Grealish responded to the shower
"Such behavior is absolutely unacceptable. FIFA must take tough action against those responsible to ensure that such behavior disappears for good, "the BBC Johnson quoted Johnson as saying.
The umbrella organization of world football has already assured that it will respond adequately after receiving the minutes of the meeting and other official news.
The paradox is that after similar incidents during the recent European Championships, the European Football Union (UEFA) closed the Ferenc Puskas Stadium for three meetings.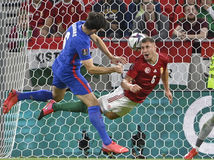 Read more The Hungarians were beaten by England, and the Spaniards fell surprisingly
Although UEFA organizes the European part of the World Cup qualification, the competition itself is under the banner of FIFA, which has allowed spectator participation and is responsible for possible sanctions.
"FIFA strictly rejects racism and violence and has a clear position on zero tolerance," the federation said in a statement.
The incidents were also condemned by the Hungarian side. The local football association has already contacted the police:
"We must identify the perpetrators and punish them severely. Whatever fine we receive, we will enforce in civil proceedings from the perpetrators, who can already count on a two-year ban on entry to all sporting events. "
European vice-champions The English secured a leading position in the I-group thanks to the triumph in Hungary.
They are led by a full number of 12 points from four matches and a lead of five points over the representatives of Poland and Hungary.