The consortium of experts recommended reducing the number of days of domestic isolation.

TASR

03.09.2021 13:29, updated: 15:14
Instead of the current 14 days of quarantine, they propose, based on scientific evidence, a reduction to ten days of home isolation for those who can end quarantine without testing. This follows from the conclusions of Thursday's meeting of the expert council.
Read more After more than three months, more than 200 infected people arrived
"Similarly, experts suggest for those who go to the PCR test on the fifth to sixth day first and the result is negative, so that they can end the isolation on the seventh day from the beginning of quarantine, which means that if they have no symptoms after the negative test on the seventh day. they can release them from quarantine, "said Zuzana Eliášová, a spokeswoman for the Ministry of Health (MZ) of the Slovak Republic.
Support for politicians
Political parties welcome and support the Council's proposal. This was confirmed for TASR by several political parties.
"The SaS party supports the reduction of quarantine for all from 14 to ten days, because it came up with it itself and proposed it to the coalition council and also to the Minister of Health," said Jana Bittó Cigániková (SaS), chairwoman of the parliamentary health committee.
Richard Raši, a member of the Voice-SD non-parliamentary party, believes that the government will not bring its own solutions to the experts' decisions. "I welcome any reduction in quarantine based on data and facts, and I especially hope that the government will not bring its own ideas and solutions to the decisions of experts, because these are the greatest threats to our citizens," Rashi said.
The Council of Experts discussed several topics. One of them was the administration of the third dose of COVID-19 vaccine. Experts opened a discussion of its submission to risk groups of the population. "The topic has remained open for the time being, and other professional international authorities have approached the above," Eliášová explained.
The conclusions of the meeting of the council are of a recommendatory nature, the proposals will be assessed by the Ministry of Health and the Public Health Office of the Slovak Republic.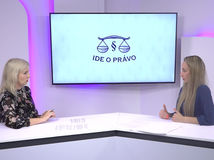 Read more Did they steal and misuse data from your Covid pass? How to defend yourself?