In a state governed by the rule of law, it is unacceptable to consider changing a legal norm only because of a legal but unpopular decision. This was stated by the Slovak Bar Association (SAK) in connection with the use of section 363 of the Criminal Procedure Code by the General Prosecutor's Office.
SAK spokeswoman Alexandra Donevová informed. On Thursday, September 2, an extraordinary coalition council was held on the topic of amending this section.
Read more Žilinka did not dispel any doubts
"The change of any legal institute motivated by the current reaction of the public to an individual decision is in conflict with the constitutional principle of predictability and stability of the legal order. Changes in the law, only because of specific cases, have historically always brought a taste of abuse of power for political purposes, which we cannot allow in the 21st century in the European Union, "SAK stated. According to lawyers, it is also unacceptable to reduce the credibility of individual constitutional institutions simply because they do not meet political ideas and expectations by fulfilling their legal obligations.
"In the vast majority of cases, the institute of annulment of valid decisions by the Attorney General in the preparatory proceedings reversed the illegality of the prosecutors' decisions, whether in favor or against the accused. The system of brakes and counterweights of the preparatory proceedings is necessary to maintain the confidence of citizens in the fact that the Slovak Republic not only formally but also materially fulfills the basic attributes of the rule of law, "added SAK.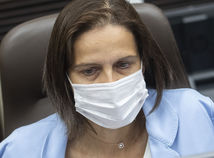 Read more Kolíková is ready to narrow Article 363 to Žilinka