In Slovakia, 232 more positive people were tested in the past day in the form of RT-PCR tests and 98 people who tested positive by antigen tests. 7,555 RT-PCR examinations and 9,797 antigen assays were completed yesterday.
Minister Vladimír Lengvarský on vaccination against coronavirus in outpatient clinics
The total number of people vaccinated with the first dose of vaccine is 2,386,264, with 2,589 more vaccinated the previous day. The second dose of the vaccine has already been given to 2,178,216 people, and 5,855 people have been vaccinated the past day.
The total number of completed laboratory PCR tests so far is 3,336,980, while 395,532 persons were tested positively. The total number of performed Ag tests so far is 37,786,363, of which 385,084 persons were tested positively.
There were 232 cases
The most positively tested RT-PCR tests were in the Košice region (56), followed by Prešovský (39), Bratislavský (35), Trnavský (30), Žilinský (30), Banskobystrický (19), Nitriansky (16) and Trenčiansky (7) . There are 98 men and 134 women among them. The total number of positively tested men is 188,842 and women 206,690.
The number of hospitalized increased
105 patients are hospitalized in hospitals, 80 of whom have confirmed the disease. There are 16 patients at JIS, 11 people need the support of artificial lung ventilation. The number of confirmed victims of pulmonary COVID-19 increased by 1 person. The total number of "Covid" deaths is 12,549 and the total number of "Covid" deaths is 2,457.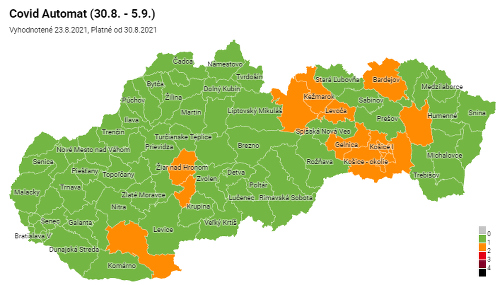 Source: korona.gov.sk
The total number of inactive cases is 719,649. These are people who have overcome COVID-19 disease, either clinically or asymptomaticly, and 2 to 4 weeks have elapsed since the test was found in outpatients and 6 weeks in inpatients.

Source: korona.gov.sk
Warning: Data on Ag tests and vaccinations are continuously updated. For this reason, the number of Ag tests and people vaccinated in the previous day may not match the difference from the last published number.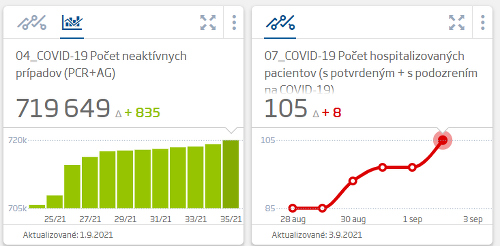 Source: korona.gov.sk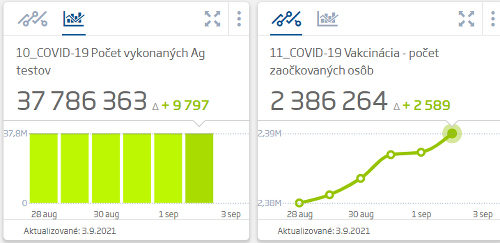 Source: korona.gov.sk