The Slovak national team did not succeed in the final paracyclist races at PH 2020 in Tokyo.

TASR

03.09.2021 08:12, updated: 09:14
Photo:

SPV
Patrik Kuril in the archive picture.

Patrik Kuril fell in the 92.4 km mass start race and finished in seventh place with a time of 2:22:35, losing almost eight minutes to the victorious Frenchman Kevin Le Cunff.
Ondrej Strečko finished 12th, Jozef Metelka did not finish the race.
Slovak paracycling thus ended at PH 2020 with a balance of four medals. Metelka won three precious metals (gold – silver – bronze) and another gold was won by Kuril, who triumphed in the time trial.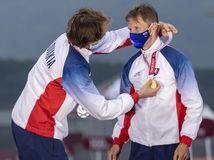 Read more Gold and silver! Slovak para-cyclists shone under Mount Fuji
In the final races with a mass start in a rainy environment on the circuit under Fuji, the Slovaks did not add any further success.
Kuril, the fourth from Rio in this discipline, rode to the top of the race, which took place on seven circuits. He attacked, but then disappeared from the front positions.
"I fell. I nailed to the ground. My own mistake. It was in a bend to be braked. A Ukrainian walked next to me, I had to go more to the outside, and of course the curb is more slippery. And I didn't stop it, "said Kuril from Paralympic.sk.
The fall bothered him all the more because he was in great shape: "I felt amazing. Like never before. I wanted to be always ahead. And he was for a long time. He shuffled the cards. He made races, but I underestimated the point.
I probably missed her humility. I spent a lot of time on the ground. The loss with the fighters who are here could not be made up. Too bad, it's a shame not to be, it could have been a medal. "
However, the two-time Paralympic medalist will leave Japan satisfied:
"I have gold and seventh place in such a competition with a mass start race is also a fantastic success. Even though I had a long way to go. "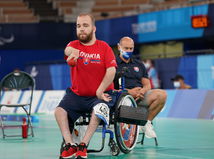 Read more Slovakia has more gold! Andrejčík got it in style
The second of the three Slovak representatives, Ondrej Strečko, dreamed of the first seven, he would take the first ten, but in the end he had to settle for twelfth place:
"It was not a track for me. It was an elevation gain of 1600 meters per hundred kilometers. This is a track for 'greyhounds' like Paťo. There is a twenty kilogram difference between us. Like a van and a passenger. "
PH 2020 – paracyclists
92.4 km mass start race: 1. Kévin Le Cunff (Fr.) 2: 14.49 h, 2. Jehor Dementiev (UKR) 2:15:11, 3. Abraham Gebru (Fr.) 2:15:20,…, 7. Patrik KURIL 2:22:35, 12. Ondrej STREČKO 2:30:07, Jozef METELKA (all SR) did not finish
Fifth fifth in javelin throw
Slovak paratrooper Ladislav Čuchran took fifth place in the javelin throw in the F54 category. In Friday's final he reached a performance of 29.02 m.
The Paralympic winner was Hamed Amri from Iran, who triumphed in the new Paralympic record of 31.35 m.
PH 2020 – parathletics:
Spear – final F54: 1. Hamed Amiri (Iran) 31.35 m -paralympic record, 2. Alexei Kuznetsov (ROC) 31.19, 3. Justin Phongsavanh (USA) 31.09,…, 5. Ladislav ČUCHRAN (SR) 29.02
Vadovičová sixth in small arms shooting
Slovak paratrooper Veronika Vadovičová finished in sixth place in the 50 m small shot. In the final, the performance reached 412.0 points. The gold medal was won for the third time in a row by the Chinese woman Chang Zhuping (457.9).
PH 2020 – paragliding
* 50m small shot – SH1 final: ** 1. Chang Zhuping (China) 457.9, 2. Natascha Hiltrop (DEU) 457.1, 3. Avani Lekhar (India) 445.9,…, 6 Veronika VADOVIČOVÁ (SR) 412.0