Last year at such a time, cases also began to increase gradually, but there were slightly fewer of them and the situation was different. The world has not yet faced dangerous mutations, nor was there a BrT variant that was more infectious than the Chinese. We did not even know vaccination and the measures were different. Even in the hospital, there are more patients today than last year. The key will be the vaccination rate, but also how the virus will spread among schoolchildren.
VIDEO Pediatrician Elena Prokopová on vaccinating children
There are more cases
Last summer was marked by relaxation, people went on holiday and the measures were a little less stringent in the countries. No one expected the second wave to strike with such force. Between 23 August and 30 August, there were 561 cases in Slovakia revealed by PCR tests. At the same time, 698 cases were added this year.
A big variable was also antigen testing, which we used for the first time during nationwide testing at the end of last year. That is why today the infection is detected not only by PCR tests, but also by antigenic tests. From August 23 to 30, there were 315 new cases revealing antigenic tests. Altogether, there were 1,023 cases this week, which is almost twice as many as last year.
The arrival of holidaymakers and the third wave
However, according to Petr Visolajský, the arrival of holidaymakers is already manifesting itself. "It's already happening, because in recent days we have seen an increase in the positively tested. And these positives are mostly made up of holidaymakers or their close contacts. Delta variant did not originate in Slovakia, it was" dragged "here by people from abroad." he said Visolajský in an interview for Topky still in mid-August. And thousands more vacationers are expected to return in the coming days.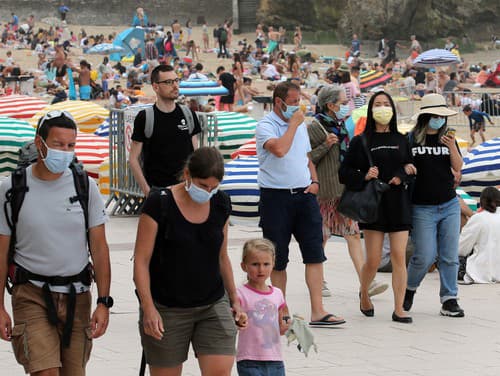 Source: SITA / AP Photo / Bob Edme
We no longer have to discuss when the third wave will be. At the end of July, the epidemiologist of the Ministry of Health, Martin Pavelka, stated that the third wave had begun in Slovakia. Even then, the reproduction number was above the value 1 for the third week in a row. Today it has a value from 1.05 – 1.15. The third wave is characterized by the most infectious delta variant so far.
"Thus, we can openly state that the third epidemic wave has already started in Slovakia. This epidemic wave is characterized by a new delta variant, which was first detected in India and which is more infectious than the previous variants. Every person gets into a dream." Pavelka said at the time.
Hospitals will help the trainees
There are currently a total of 85 patients in hospitals, 54 of whom have confirmed coronavirus. There are three patients on artificial lung ventilation, there are nine on JIS. As far as hospitalizations are concerned, vaccination should influence them to a large extent. We all remember very well what happened with the onset of the second wave. Thousands of people were infected, hospitals were operating at full speed, and since we were not protected from the coronavirus in any way, people ended up supporting the devices.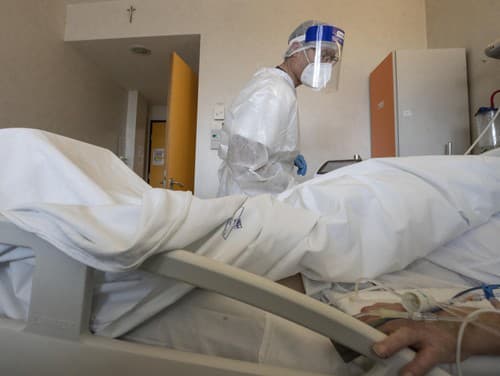 Source: SITA / AP Photo / Luca Bruno
There were thousands of people in the hospitals, the staff was busy, there was no space, they all had to take over. Vaccination not only protects us from coronavirus, but even if a vaccinated person becomes infected, there is a much less chance that they will end up in hospital. And even with the delta variant, the course is mostly asymptomatic or the symptoms are only very mild.
The children will probably die
Several experts predict that the number of hospitalized will be lower than last year, but this is something we will not follow. The unknown is children in schools. The delta virus will spread especially among children. Since the children have been mostly at home for the last year, the relapse is not so great. "It can therefore be assumed that it is in children's groups that the delta variant will spread significantly," said Visolajský.
VIDEO Chief Hygienist Mikas: The Public Health Office will draw up guidelines for individual universities
This is especially true for children under 12 years of age, as they cannot be vaccinated yet. Various studies are currently underway. "So, with this highly infectious variant, this virus will run through schools," said the expert.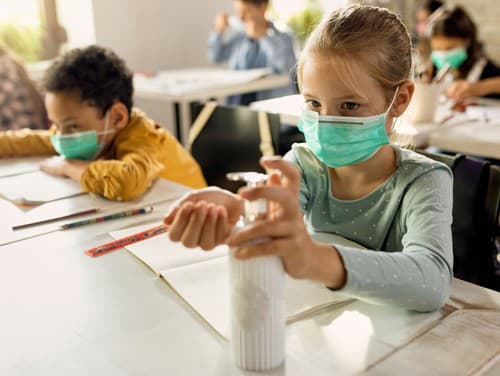 Source: Gettyimages.com
Vaccination rates in Slovakia are still low
"Experience from abroad, especially from Great Britain and Israel, shows that vaccination largely prevents the disease from becoming difficult, but also against the infection itself. Those who want direct evidence that vaccination works have it. In Britain, after overcoming a certain the milestone in vaccination has released all anti-epidemic measures and although their number is growing there, the number of hospitalizations is very low. " said Visolajský.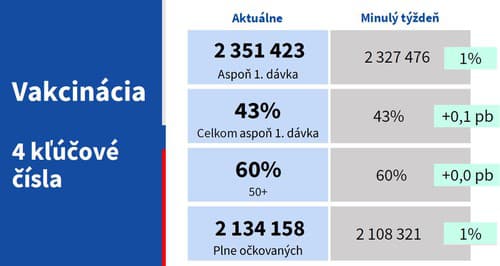 However, it is not new that the overall vaccination rate is very low in Slovakia. We currently have less than 40 percent fully vaccinated. There is something in the Waiting Room at the moment. Experts do not rule out that everyone will encounter a delta by the end of the year, and precisely because of the low vaccination coverage, this is more than likely. However, interest in vaccinations could increase in the autumn, when there will be more positive cases and more people in hospitals.