British tennis player Andy Murray accused the Greek Stefan Tsitsipas of deliberately delaying the game during their match in the first round of the US Open. Murray claims that Tsitsipas influenced the outcome of the duel.
Photo:

SITA / AP

,

Seth Wenig
Andy Murray complains to the referee during a match with Stefanos Tsitsipas.

As the tournament's three, the Greek defeated the 34-year-old British in four hours and 39 minutes 2: 6, 7: 6 (7), 3: 6, 6: 3 and 6: 4. After a five-hundred-foot marathon, Murray barely greeted his opponent.
"I think he's a great tennis player. But after this match, I lost respect for him, "he said. He did not like the delays of his opponent in the third set, including health and hygiene breaks.
Tsitsipas claims that he did not break any rules:
"If he wants to tell me something, the two of us should clarify it so we can understand what happened. I don't think I broke any rules, I played as instructed.
If I play by the rules and stick to what the ATP says, then that's fine. I have nothing against him. Absolutely nothing."
Murray said his adrenaline dropped after long delays.
"I talked to my team about it before the match and I said I expected it. I had to be prepared for him to do just that if things didn't work out for him.
When you play such a match and suddenly there is a seven or eight minute break, you cool down. You can mentally prepare for it as much as you want, but the fact is that it will physically affect you if you take a break more than once during the match.
And it was always before my submission. When he asked for treatment, it was just after I won the third set. "
After the fourth set, Tsitsipas took an unusually long hygienic break and after that he definitely decided the match.
"This can't be a coincidence. I don't believe he had any problems. He was fine, he moved great. I'm disappointed because I feel it affected the outcome of the match.
I'm not saying I would have won the match, but the long breaks had an impact on what happened after them, "Murray said.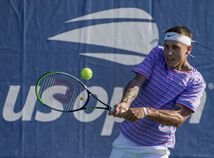 Read more Grand Slam debutant Molčan after the procedure: I managed it mentally
Tsitsipas said his last break, which lasted more than seven minutes, included changing clothes.
"The time I need to change is a little longer. As far as I know, we are allowed two breaks on the toilet, and so I can change, since we played five sets.
I didn't break any rules, so I don't see why that should be a problem. "
Murray responded, saying Tsitsipas simply stayed too often:
"I think it's nonsense and he knows it too. It's time to change the rules because it's not good for sports, it's not good for TV, it's not good for fans.
I don't think it's a good view of the players either. "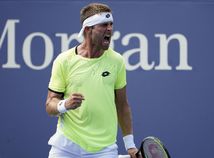 Read more His nerves broke. Gombos fired a racket after the loss
Alexander Zverev protested two weeks ago at a tournament in Cincinnati before Tsitsipasa's long break in the locker room.
"We know what he's doing, other players know it too. You may argue that I shouldn't take it that way, but it's actually hard. Overall, I've done well, the disappointment can't be ignored.
I don't want my words to be an excuse, I assure you I would say that even if I win. I'm sitting here talking about bathroom breaks and health breaks and delays in matches.
That's bullshit. I don't think that's right, "concluded the three-time grand slam winner.