Last Saturday, 175,503 demonstrators had been identified throughout France, a mobilization already down compared to the week before.
With the approach of the start of the school year, opponents of the health pass were less numerous in the street for this seventh Saturday of the demonstration. 159,484 demonstrators were identified throughout France by the Ministry of the Interior.
Last Saturday, 175,503 demonstrators were identified by the authorities, a figure already down from the previous week, when 214,845 people marched.
The Interior Ministry also said that 16 people had been arrested on the sidelines of the mobilisations, including two in Paris, and three members of the security forces were slightly injured.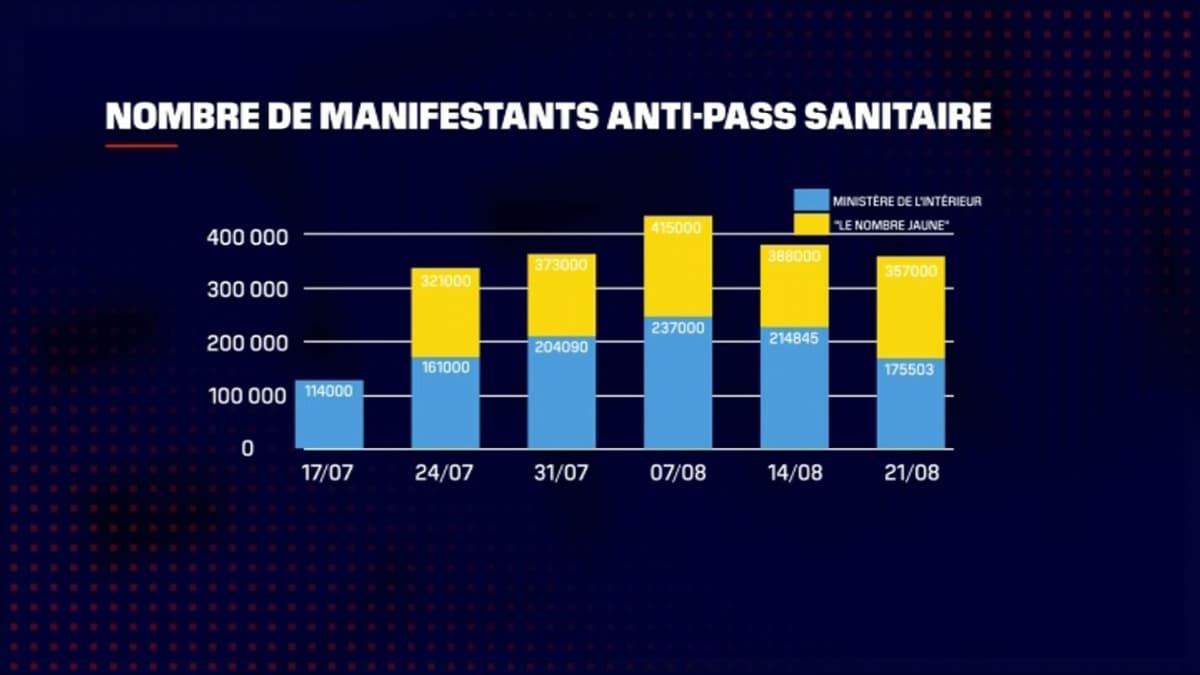 Four processions in Paris
222 actions have been identified across the country, from Paris to Rennes, via Lyon, Lille, Valence, Toulouse, and Perpignan. Outside Paris, the two most important events took place in Montpellier (9,500 people) and Mulhouse (5,500).
In the capital, where four processions set off in the early afternoon to cries of "freedom" or "resistance", 14,500 demonstrators were identified.
"I am not against the vaccine but against the vaccine passport," said David Vidal Ponsard, a member of the Patriots movement of the former National Front Florian Philippot, who gathered his troops around the Military School.
Widely populated by "yellow vests", a competing parade started from the Place de la Bourse, denouncing pell-mell the "propaganda" of the media and the government on the vaccine against the Covid-19, the "piquouze" or the "Nazi pass".
Véran does not rule out an extension of the pass beyond November 15
Since July, hundreds of thousands of people from all walks of life – former "yellow vests", "anti-tax" activists, conspiracy theories or opponents of Emmanuel Macron – have been pounding the pavement every Saturday, without any notable incident so far.
Asked about the dispute, the Minister of Health Olivier Véran assured this week that "the last reluctance is falling in the face of the success of the health pass".
This device, to be presented in bars, restaurants, long-distance transport or even hospitals, could be extended beyond November 15, the limit set by law, "if the covid does not disappear from our lives", warned Olivier Véran.
Since August 16, the health pass also applies in many shopping centers. From Monday, it will be imposed on employees of places where customers are requested. Employees refusing to present it may have their employment contracts suspended.