The United States military began withdrawing from Kabul Airport, where the evacuation of foreigners and Afghans fleeing the radical Islamist Taliban movement has continued for the past two weeks. Pentagon spokesman John Kirby said on Saturday.

ČTK,
TASR

28.08.2021 18:12, updated: 19:16
Photo:

Staff Sgt. Victor Mancilla
US Army soldiers evacuate a girl at Kabul International Airport in Afghanistan

Kirby added that, for security reasons, the military would not state the exact numbers of troops withdrawn from the international airport. According to him, the soldiers will try to evacuate as many Western nationals and cooperating Afghans as possible until the end of their operations in Kabul.
However, an unnamed Pentagon spokesman told Reuters on Saturday that the number of US troops at the airport had dropped to less than 4,000 from 5,800.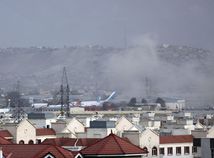 Read more The blast in Kabul has 170 victims. Biden: Terrorists will not stop the evacuation
The situation at the airport remains extremely tense after Thursday's bloody attack by the Islamic State. The Taliban rebel movement said Friday night that it controlled most of the airspace.
One member of the movement told the DPA that the US military handed over "two to three" entrance gates to the Taliban on Saturday night. According to the AP, Taliban members are now letting in almost no one through their surrounding checkpoint.
A Taliban spokesman told Reuters that the movement would gain full control of the airport "very quickly." "It is premature to say whether we will need the help of Turkey or Qatar to operate the airport," he added, adding that the movement had enough security and technical staff to manage the airport. Turkish President Recep Tayyip Erdogan has previously said his country is negotiating with the Taliban.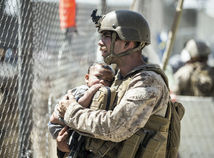 Read more American retaliation for the explosion in Kabul. They used a drone to attack a terrorist
Washington previously announced that US troops would end their presence at Kabul Airport on August 31. The presence of the US military at the airport is crucial in terms of evacuation. The United States has evacuated more than 110,000 people from Afghanistan since the Taliban seized virtually all of Afghanistan in mid-August after a surprise and lightning offensive. Thousands more were taken to the safety of Allied armies. Afghanistan / Taliban / Map showing the Afghan territories occupied by the Taliban during April to August 25, 2021.
Joint approach of the G7 countries to the new Afghan government
On Saturday, British Prime Minister Boris Johnson telephoned German Chancellor Angela Merkel to talk about the situation in Afghanistan. The leaders of both countries agreed that the G7 countries must unify their approach to the future Afghan government.
"The prime minister and the chancellor have decided to work with the other G7 countries to work out a plan for how they will deal with any new government in Afghanistan," the British government said in a statement.
However, Johnson emphasized during the interview that any recognition by the Taliban government "must be conditional on the movement allowing those who wish to leave safely to leave the country and respecting human rights."
The two leaders also agreed that "international aid needs to be provided to Afghanistan, otherwise a humanitarian crisis will break out in the country."