The risk of very rare cases of blood clots forming after vaccination with the anti-coronavirus vaccines from Pfizer and AstraZeneca is much lower than after infection with this virus.
Photo:

SITA / AP
SARS-CoV-2 virus, which causes COVID-19, under a microscope.

This follows the findings of an extensive study by researchers from Oxford University published on Friday, the AFP agency reported.
In a study published in The British Medical Journal (BMJ), researchers report a very low risk of developing blood clotting disorders that could lead to hospitalization or death shortly after being vaccinated with the first dose of AstraZeneca and Pfizer vaccines. In contrast, the risk of most blood clotting disorders was "significantly higher and longer lasting" after SARS-CoV-2 coronavirus infection.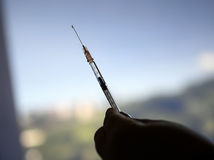 Read more The BBC presenter died of a blood clot caused by a vaccine
Researchers looking at almost 30 million people in England vaccinated with the first dose of the vaccine from last December to April this year estimate that there are seven cases of cerebral thrombosis (so-called thrombosis of the intracranial venous system) in the ten million people vaccinated with AstraZenca. , CVST). However, according to them, there are 20 cases of CVST for ten million people infected with the coronavirus.
Long-term risk
According to researchers, there are 66 cases of venous thrombosis in the ten million people vaccinated with the AstraZenca vaccine, while an estimated 12,614 cases of venous thrombosis account for the ten million people with coronavirus.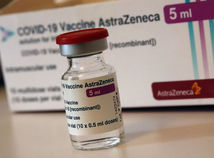 Read more The benefits of the AstraZenec vaccine increase with age, the EMA noted
In the study, ten million people vaccinated with the Pfizer vaccine estimate 143 cases of stroke. However, in people with covid, there are up to 1,699 cases.
The head of the study, Julia Hippisley-Cox, also pointed out that the risk of blood clots after vaccination with covid vaccines was only short-lived, while the risk of blood clots in people with covid persisted throughout the four-week study period. For example, with the Pfizer vaccine, she said the increased risk of stroke persisted for 15-21 days.