Death Stranding returns in 2021 in the form of a Director's Cut (new edition with many bonuses), exclusively for PlayStation 5. If we can welcome the improvements graphics, Hideo Kojima has gone too far in adding content.
The gamescom 2021 opening ceremony, which took place on August 25, ended with a hearty trailer of Death Stranding: Director's Cut. A nice highlight for a game already available on PS4 and PC, which can be explained by the friendship between Hideo Kojima, creator of the title, and Geoff Keighley, organizer of the event. This long video focused on the new features of this version, to be released on September 24 on PS5. And I must admit that the images made me very sad: what happened to the Death Stranding original that I still think of today?
In addition to the graphic improvements expected during this transition to a more powerful console and the contributions of the DualSense controller, Death Stranding: Director's Cut will bring its share of new content. But it seems that Hideo Kojima has gone a little too far, favoring generosity (we must justify the subtitle Director's Cut) to common sense. Therefore, this new edition stuffed with bonuses does not give me at all want. This overflow distorts the very essence of Death Stranding.
Why Death Stranding: Director's Cut is all about betrayal
Hideo Kojima, who believes that Death Stranding: Director's Cut nothing like a Director's Cut (which is already a problem), did not have a light hand. New options to facilitate the gameplay (we will come back to this), new missions, game modes that have nothing to do there (for example, the opportunity to redo the bosses), integration of car races (?!), New gadgets … Normally, we should welcome all these additions, justifying a little more a new checkout. Corn Death Stranding is not a game like the others, it is a work apart supposed to affirm the style of its creator. In this sense, it cannot give in to this facility which would consist in opening up a little more to an initially closed public, with a lot of more attractive activities. A FedEx simulation built around exhilarating constraints (yes, it's not a seller), Death Stranding is becoming a catch-all with no real direction, instead of a huge source of entertainment.
The dying seconds of the trailer that aired on August 25 symbolizes a form of betrayal. We are promised "more fun" – tricks riding a motorcycle after taking springboards? ! – within an experience with a serious and melancholy tone. Where has this melancholy sum of all fears gone, this incredible quest for unification, this almost poetic notion of isolation, this gallery of charismatic characters? Death Stranding was not a perfect production, let alone universal. Death Stranding: Director's Cut seems set to highlight a little more the faults of its creator: his taste for the absurd excess and his ability to impose his personal fights on us (the new infiltration sequences allow him to mourn the Metal Gear saga , which he lost after his painful breakup with Konami).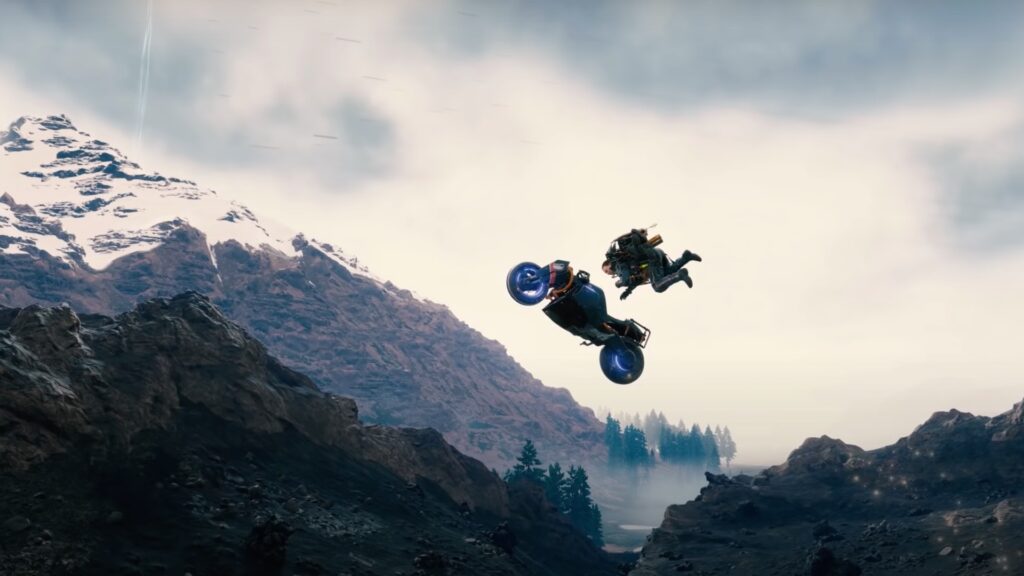 And then, what to think of all these new gameplay options that will make it much easier to deliver the packages (there is definitely a cannon to send the packages very far). The success of Death's Stranding, initially narrative, was also in this propensity to impose a real simulation in the displacements, with analysis of the ground and management of the obstacles. In the Director's Cut, we can equip the hero with advanced stabilizers to land smoothly when we throw ourselves into the void. This novelty is false good news: Death Stranding caricature by making its gameplay more accessible, by inhibiting this requirement against which we can rail, but which carries these excellent sensations. Sam Porter's journey (played by Norman Reedus) goes through difficulties to be overcome, through repetitive, almost discouraging phases. Taking them off to please the general public shouldn't be part of the equation.
The continuation in video