The battle rages, in this fall, in the field of mobile operators as usual mainly between RED by SFR and B & You of Bouygues Télécom. It is the latter who reacts by extending his offer and proposing a very interesting 4th package.
As we saw yesterday, RED by SFR was the first to launch the offensive with the return of its operation The BIG RED which offers 4 mobile plans AT UNBEATABLE PRICES from 5 to 200 GB and respectively from 5 to 15 € per month !
Bouygues Télécom reacted, as expected, by extending its promotional offer on the one hand Very B & You and then adjusting it to the price level, but also mobile plans by adding in particular a 4th plan offering 80 GB of mobile data to align with RED's offer.
So today you will find 4 mobile plans at really reduced prices, starting with a mobile plan offering 200 GB of data at only € 14.99, but also a 100 GB plan at € 11.99 and one 80 GB package at € 9.99, and finally a 5 GB mobile plan for the small price of € 4.99 !
These packages are all without commitment and without price increase after 1 year and available until August 26, 2021 in the evening.
Note that the 3 packages 80 GB, 100 GB and 200 GB have the B.tv option free for one month with more than 70 unlimited TV channels on your mobile.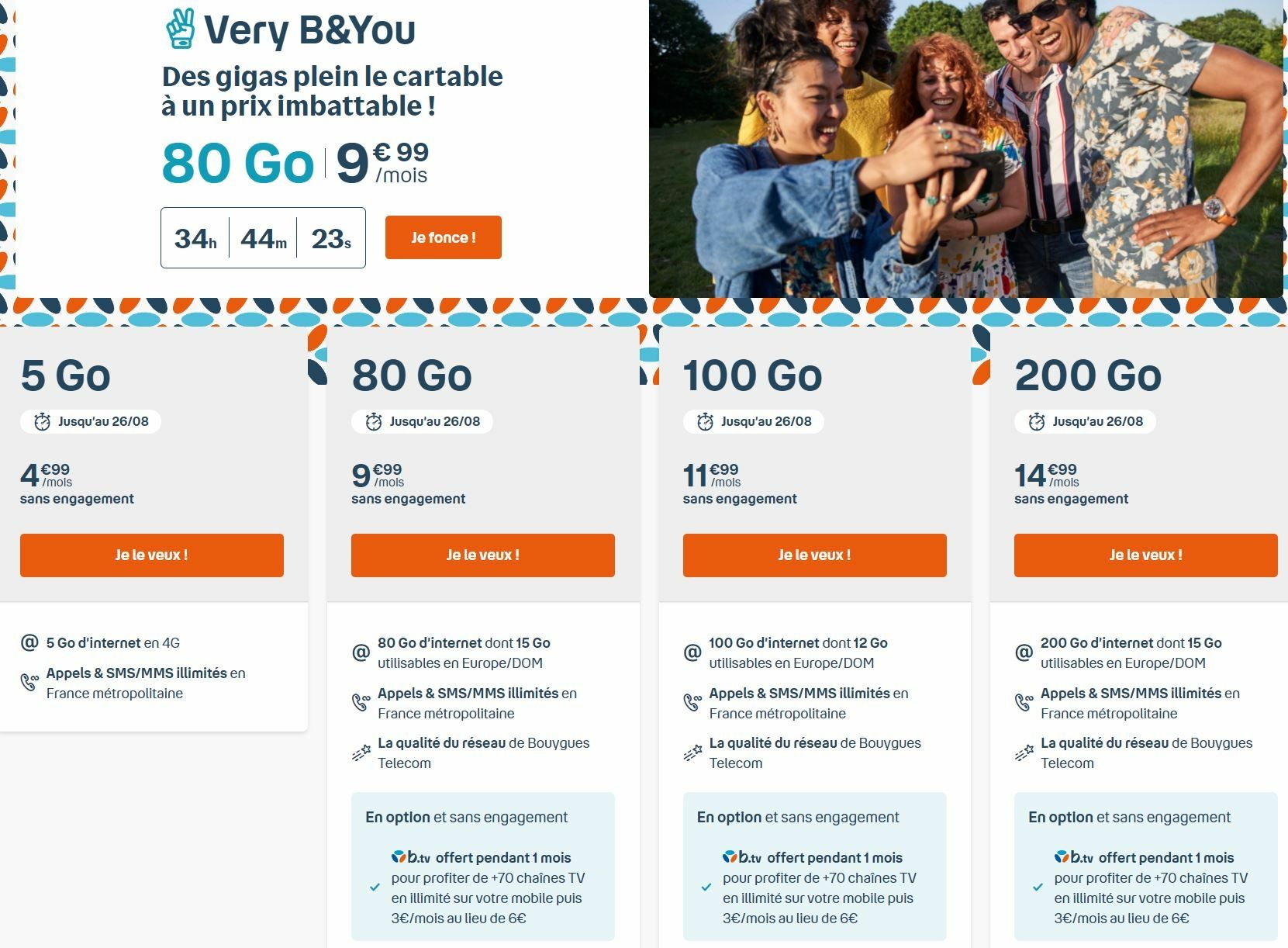 These packages include:
Calls, SMS / MMS unlimited in France
200, 100, 80 or 5 GB of mobile data usable in mainland France
of which respectively 15, 12, 15 or 0 GB of data usable in Europe and the overseas departments
The competition still exists with on the one hand Sosh and its 50 GB and 100 GB plans at € 12.99 and € 15.99 per month, free mobile with its 90 GB plan at € 8.99 per month, Cdiscount and its 3 packages 5 GB, 130 GB and 200 GB at respectively € 1.99, € 7.99 and € 9.99 per month, without forgetting of course RED and its BIG RED packages from 5 to 200 GB of data for prices of 5 to 15 € per month !