In degree vigilance – orange phase – the districts of Banská Štiavnica, Bardejov, Gelnica, Kežmarok, Košice I.-IV., Košice-okolie, Levoča, Nové Zámky, Poprad, Vranov nad Topľou and Žiar nad Hronom will be included.
Updated 3:43 PM The pandemic situation remains relatively stable
The situation with COVID-19 remains relatively stable. The number of hospitalizations is not increasing and the number of people infected with the new coronavirus is also relatively stable. This was stated by the Minister of Health Vladimír Lengvarský (OĽaNO nominee) after the government meeting. "Within the V4 countries, the number of cases is growing slightly. In terms of vaccination coverage, we are 20 percent behind the EU average as a country." stated Matej Mišík, Director of the Institute of Health Analyzes of the Ministry of Health (MZ) SR.
In the last seven days, there have been an average of 115 infected cases per day in Slovakia. Among the cases in the last two weeks, 74 percent of those infected were unvaccinated. 47 patients are hospitalized, most of them in the Košice region. "However, the growth rate of those infected is relatively moderate and stable than in other weeks," added Mišík.
The number of unvaccinated over 50 is declining
At the same time, he expects that with the arrival of the new school year, interest in vaccinations will increase slightly. There are currently eight districts with over 50 percent vaccination of their inhabitants. "The number of unvaccinated people over the age of 50 is also declining. There are more districts approaching the 65 percent vaccination limit for this age group, which will allow them to move to a milder level, according to the COVID machine." evaluated Mišík. At least the first dose of vaccine was given to districts by 30 to 61 percent of the population. 26 to 58 percent are fully vaccinated within the regions.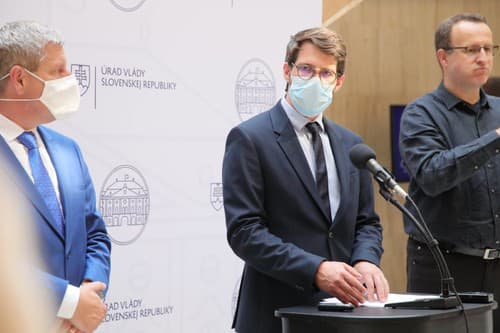 Source: Topky / Vlado Anjel
The Minister also reiterated that the possibility of a third dose is still being explored. "I don't rule out a decision coming in a week or two," specified by Lengvarský. According to the Minister, the COVID vending machine could be modified within two weeks, so that the districts do not get into stricter grades and colors only on the basis of the number of infected.
Stricter rules
In the orange districts, stricter conditions apply, for example, for mass events, restaurants, fitness centers or wellness, as well as weddings and kari. The number of people will depend on the mode chosen by the organizer.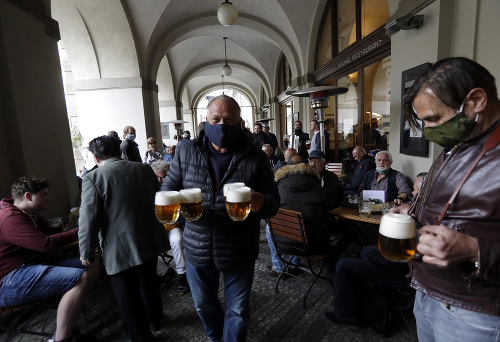 Source: SITA / AP Photo / Petr David Josek
Operators and organizers of mass events will decide for themselves which persons will be allowed to enter. They can choose from three regimes, namely fully vaccinated, OTP (vaccinated, tested, after overcoming COVID-19) and the so-called basis, ie all customers without distinction.
Most of Slovakia is green
In degree monitoring, ie in the green phase the districts of Bánovce nad Bebravou, Banská Bystrica, Bratislava I.-V., Brezno, Bytča, Čadca, Detva, Dolný Kubín, Dunajská Streda, Galanta, Hlohovec, Humenné, Ilava, Komárno, Krupina, Kysucké Nové Mesto , Levice, Liptovsky Mikulas, Lucenec, Malacky, Martin, Medzilaborce, Michalovce, Myjava, Namestovo, Nitra, Nove Mesto nad Vahom, Partizanske, Pezinok, Piestany, Poltar, Povazska Bystrica, Presov, Prievidza, Puchov, Revuca, Rimavska Sobota, Roznava , Ruzomberok, Sabinov, Sala, Senec, Senica, Skalica, Snina, Sobrance, Spisska Nova Ves, Stara Lubovna, Stropkov, Svidnik, Topolcany, Trebisov, Trencin, Trnava, Turcianske Teplice, Tvrdosin, Velky Krtis, Zarnovica, Zilina, Zlate Moravce and Zvolen.
In green districts, fully vaccinated can perform most activities without restriction, with slight restrictions they must count unvaccinated or not tested for COVID-19. Wearing drapes remains mandatory indoors in both green and orange districts.