The Slovak composer, singer and guitarist Ján Baláž, who celebrates his 70th birthday on August 24, is one of the pillars of the pop-rock group Elán alongside Jozef Ráž. Baláž achieved his greatest success with the group Elán, and his songs Queen of White Sneakers, I Can't Be Alone, Wanderers in the Underpasses and The Boy fell in love were especially popular.
Photo:

PRAVDA.SK – MARIAN NITON
Jano Baláž, a member of the legendary band Elán, answers questions from readers of Pravda in an interview.

Ján Baláž was born in Nitra, but has lived in Bratislava since he was eight years old. He learned to play the violin, guitar and trumpet, and did not complete his pharmacy studies in Bratislava. From 1967 to 1975 he was a member of the Modus group, he was involved in its creation, among others, with Mir Žbirek. After completing his basic military service, he performed in foreign bars with Vlad Hronec's group.
Baláž started playing with the Elán group in 1980 and over the next few years he became one of the band's leading authors. At that time, Elán focused on concerts in sports and winter halls, and during the first half of the 1980s he developed into one of the most popular bands in what was then Czechoslovakia. In the Golden Nightingale poll, he won second place in 1982 and 1983, and first place in 1984-1986.
Elán's success was not interrupted by the dissolution of the original line-up in January 1985. At that time, only Ján Baláž and Joža Ráž remained in the band, a duo of perseverers who still play in the band. There are dozens of Slovak and English albums with millions of sales on Elán's account. Among the best known are, for example, Slovak Hour (1985), Detective (1986), I Can't Be Alone (1987), Rabaka (1989), Tenderness Hour (1995) and Legends 1-5. In 2019, on the occasion of the group's 50th anniversary celebrations on the stage, the 15th studio album entitled High Time was released.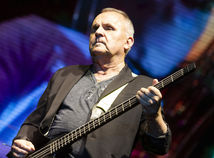 Read more Elan in Tehelne Field: When culture knows its limits
Baláž is married for the second time and has four children.