Jean-Michel Blanquer announced that level 2 of the health protocol will be applied from Thursday, September 2 in schools, colleges and high schools in metropolitan France. What does this mean in concrete terms? BFMTV.com takes stock.
The holidays are soon over. From this Thursday, September 2, schoolchildren, college and high school students will return to class, with a new health protocol. Unveiled this summer, it is available this year in four levels: from green – level 1, the least restrictive -, to red – level 4, the most restrictive.
The Ministry of National Education specifies on his site that this level may change "at the national or territorial level (department, academy, region)" depending on the epidemic situation. But to start the year, Jean-Michel Blanquer announced this Sunday in the JDD that it will be level 2 of the protocol that will be applied in mainland France.
What exactly is it? Wearing a mask, following classes, gatherings, physical and sports activities … The infographic below lists the measures provided for by this level 2 of the health protocol.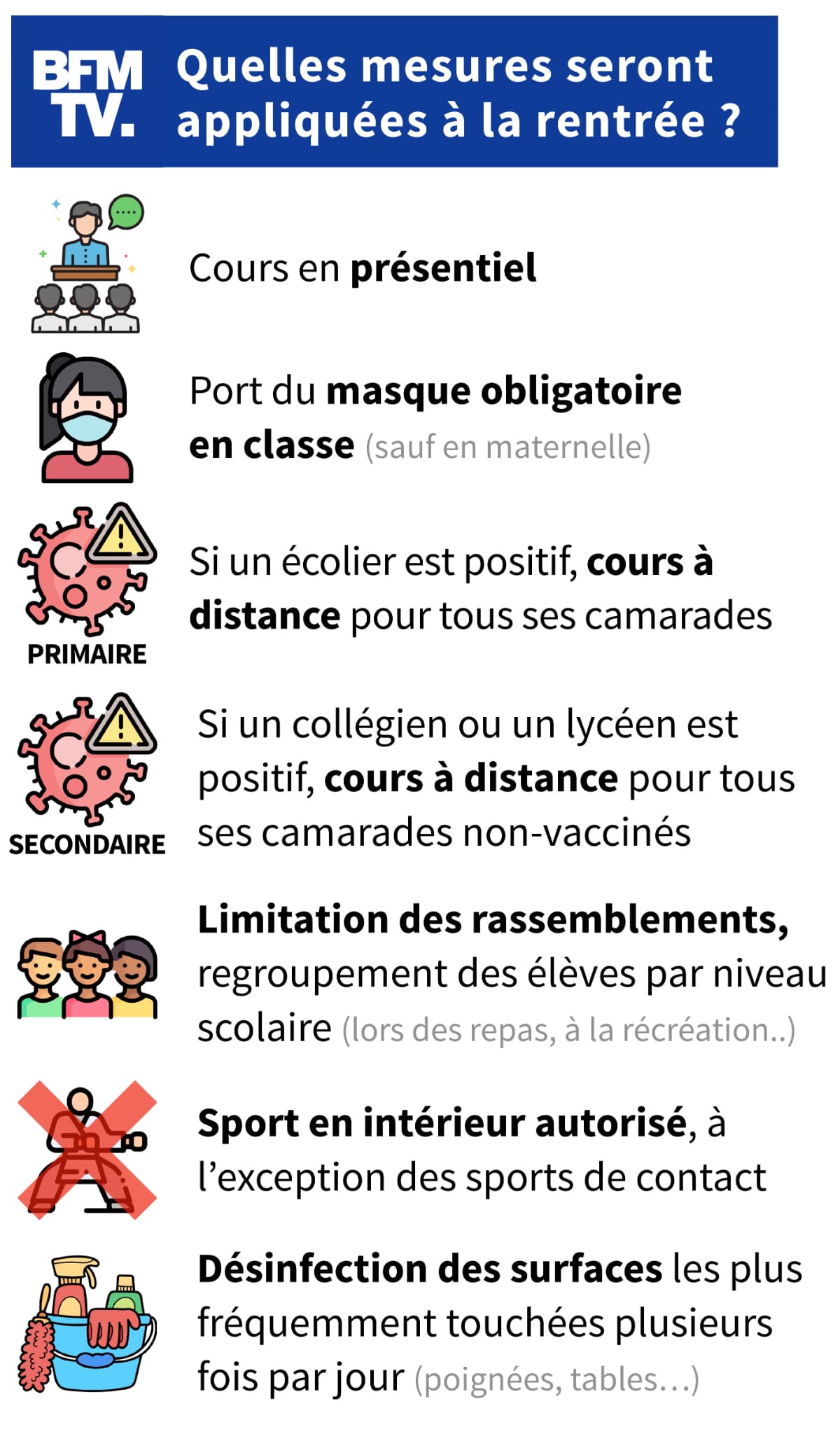 The rule will be face-to-face lessons, with compulsory wearing of the mask in class, except in kindergarten. Indoor sports activities will be permitted, with the exception of contact sports.
The only major difference between the first and the second degree is the procedure to be followed in the event of contamination within the classroom. In kindergarten and elementary school, where students are not of age to be vaccinated, the entire class will be closed for seven days if a student tests positive for Covid-19. In middle and high school, only "at risk" contact cases – who have neither been vaccinated nor been recently infected – will be sent home and will have to follow the courses remotely.
An insufficient protocol for unions
Guislaine David, general secretary of Snuipp-FSU, the first primary school union, deplores that the protocol is "lighter than last June, particularly in terms of school catering (…) while the incidence rate is more high in pupils because of the delta variant ".
The National Union of high schools, colleges, schools and higher also criticizes the government which "has not invested (…) in personnel or equipment". Same story on the side of the Sud-Éducation union, for which the protocol "endangers students and staff".
"School is the most complex situation that awaits us this fall," said epidemiologist Arnaud Fontanet on Monday. on France Inter. The member of the Scientific Council indicates that the latest models from the Institut Pasteur "have shown that half of the new infections will occur in children from the fall since it is the unvaccinated population".
In addition to respecting barrier gestures and wearing a mask, the specialist also pleads for the ventilation of premises which can pass through "perhaps air purifiers in places where ventilation is not possible". At present, equipping schools with CO2 sensors – which should make it possible to assess the efficiency of ventilation – is only recommended by the health protocol.
Louis Tanca BFMTV reporter