In 22 days in July, we had 600 positives in Slovakia, which is based on 28 cases per day. In the 22 days of August, we already have 1389 positive people, so on average there are 63 cases for each day. Within one month, the number of people infected with the delta mutation more than doubled. However, analysts from the Data without Pathos project still claim that the numbers of infected people are very low in our country.
Strict quarantine for schoolchildren
Statistically, the number of infections among children under 15 is very small. However, analysts expect that the number of infected children will change after schools are opened and children come indoors, similar to the United Kingdom and Germany. However, they point to the strict 14-day quarantine that the whole class will have to go through with us, it is enough if they have even one infected person. "Successful countries (UK, Switzerland, Germany) isolate ONLY the infected person and his siblings or only the immediate vicinity and for less than 14 days (10 days)," they point out.
If there is no change in this direction, we will most likely have closed most classes in schools due to infected children. "Isolation will delay the infestation of children (which we will most likely not avoid) and we will fight the delta in schools throughout the first half of January until the end of January." they added.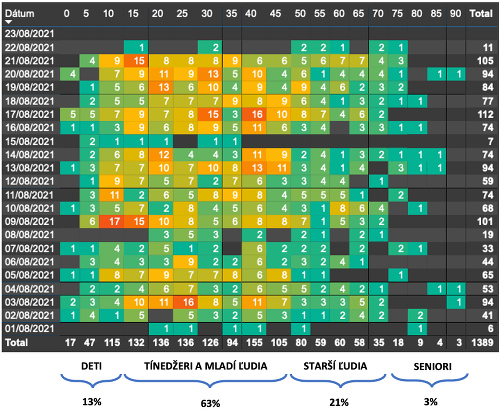 Source: Facebook / Data without pathos
As it is in older years
The numbers also revealed that up to 2/3 of the positive people are between the ages of 15 and 50. This is a large group, representing almost 50 percent of the population. There are exactly 2.7 million of them. "They are mobile, they live actively, socially, most work, they have been on vacation, even abroad," described by analysts. In addition, according to them, Covid-19 tolerates relatively well and represented only 1/4 of the hospitalized and only 3 percent of the victims in the first and second waves. In addition, half of them are vaccinated today, which will have a major impact on the second wave.
Older people aged 50 to 75 make up 21 percent of those infected. "They are significantly vaccinated – over 60 percent and their numbers are still rising. There are 1.6 million of them and they represent 30 percent of the population. The numbers of those infected are surprisingly low, which is probably related to their recovery from the previous wave," evaluated analysts. However, they cannot estimate the impact of the delta variant for this age group. "High inoculation combined with high penetration can achieve 75-80 percent protection, which is close to what has been reported to be a target for "solid protection". We avoid the term collective immunity (there is no such thing), " stated.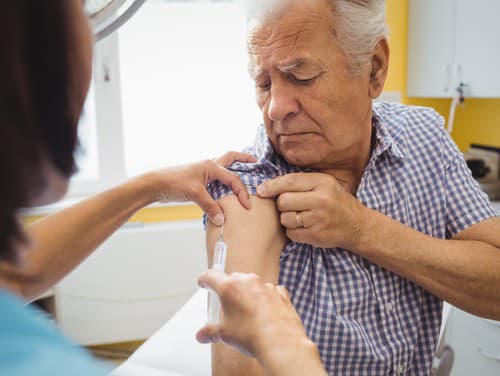 Source: Getty Images
The group of seniors for 75 years represents 3 percent of those infected. However, in comparison with other European countries, they are very poorly vaccinated in Slovakia. Only about 60 percent of them received the vaccine, and this percentage is no longer growing. There are 333 thousand of them and they represent 6 percent of the population. However, the numbers of those infected are extremely low in their ranks, which, according to analysts, is probably related to their infestation from the previous wave and their isolation.
However, they are a risk group and 130,000 unvaccinated people may end up in the hospital with a high percentage due to their health. "One third of those hospitalized in the second wave did not return home, but this should not happen again, because the second wave unfortunately swept those at risk." recalled.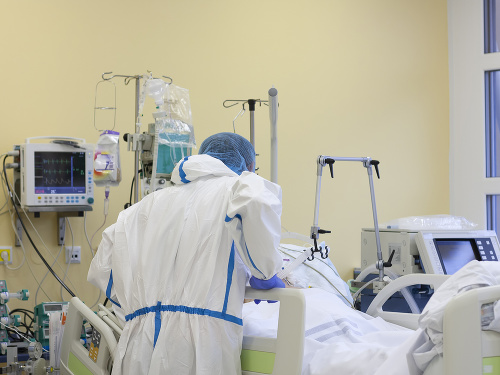 Source: Getty Images
Disaster in poorly vaccinated Georgia
Examples from abroad show the weight of the vaccination of the population during the delta wave. The numbers speak clearly. This is also the case of Georgia, which has a population of 4 million, which, according to analysts, is not far from Slovakia. For the second month in a row, 4 percent of the population have been infected with a strong delta wave.
By comparison, if we recalculated this to our circumstances, it would be 200,000 infected people in 60 days. "Already today, they have 1,500 victims in the delta wave, and when they move by 14 days, the calculation shows that 2 percent of those infected are dying. up to 10,000. But we certainly avoided that. " analysts said.
What should be remembered, however, is the fact that vaccination coverage in Georgia currently stands at 6 percent. During the delta wave, it was even less, with 2 to 3 percent of the population having a vaccine.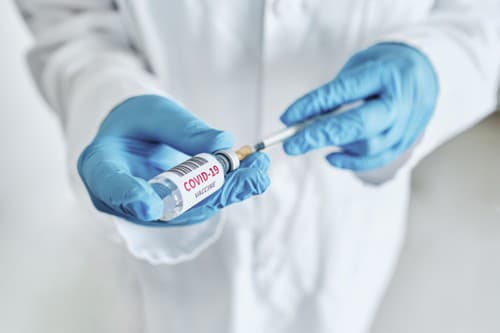 Source: Getty Images
Many vaccinated, few victims
The situation is different in the Netherlands. The country, which is 4 times larger than Georgia, has 125 victims after the delta wave, ie 30 times less than Georgia. "Instead of 2 percent, it's 0.06 percent. That's how it works so far," analysts said. And the difference? The Netherlands does not vaccinate 6 percent as Georgia, but up to 60 percent of the population.
By comparison, Iceland has vaccinated even more, up to 75 percent of the population. In the second month, however, the delta wave does not register a single victim.