The inaugural summit of the Crimean Platform will take place in the Ukrainian capital on Monday, with the aim of achieving the return of Crimea under the sovereignty of Kiev. More than 40 foreign delegations will take part in the event. Slovakia is represented by Prime Minister Eduard Heger.
Photo:

TASR / AP

,

Pavel Golovkin
In an archival image from March 28, 2014, the Russian flag is flying on a hill near the town of Bakhchisaray in the Crimea.

"By attending the summit, the Prime Minister of the Slovak Republic Eduard Heger confirms the long-term support of the Slovak Republic to Ukraine and its territorial integrity," they informed the press and information department of the Office of the Government (ÚV) SR on the sidelines of the prime minister's foreign trip.
The Crimean Platform is a new international consultation and coordination format, initiated by Ukraine and President Volodymyr Zelenský. According to Kiev, the main goal of the platform is to achieve an end to the Russian occupation of Crimea and to restore Ukraine's sovereignty over the peninsula.
The platform is to operate at several levels: Heads of State and Government, Foreign Ministers, interparliamentary cooperation and a network of experts.
Ukrainian Foreign Minister Dmytro Kuleba announced on Friday that senior officials from 44 countries and international organizations would attend the summit. Latvia, Lithuania, Estonia, Poland, Hungary, Moldova, Slovenia and Finland will be represented at the level of presidents. Charles Michel, President of the European Council, will also take part in the event.
Kuleba told TV Ukraine 24 that they did not send an official invitation to Russia. "However, from the very beginning, after being publicly informed about President Zelenský's initiative to implement the Crimean Platform, Russia has categorically rejected any possibility of cooperating with the Crimean Platform – and we are not against it. As part of the Crimean Platform, we are ready to talk to Russia about Crimea, "he added.
Following the talks, the leaders are expected to sign a joint declaration reaffirming their commitment to Ukraine's independence and territorial integrity and setting out a framework for international policy towards Crimea.
Russia occupied the territory of the Crimean Peninsula in February 2014 and in March annexed it to its territory after a controversial referendum, which was not recognized by Ukraine or the West. The summit is taking place at a time when Ukraine is commemorating the 30th anniversary of its independence.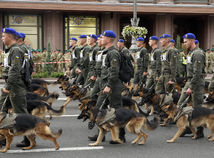 Read more Celebrating Ukraine is lagging behind Slovakia