Storms can occur throughout the Prešov region, in the district of Banská Bystrica, Brezno, Detva, Lučenec, Poltár, Revúca, Rimavská Sobota, Veľký Krtíš, Zvolen, Gelnica, Košice surroundings, Košice city, Rožňava, Spišská Nová Ves, Dolný Kubín, Liptovský Mikuláš, Námestovo, Ružomberok and Tvrdošín. The warning is valid until 12:00 noon, resp. until 16.00
Storms can be associated with downpours, which can cause up to 40 millimeters of precipitation to fall. Wind gusts can reach 65 to 85 kilometers per hour.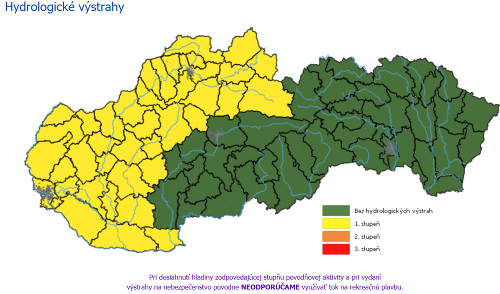 Source: SHMÚ
The SHMÚ also issued a first-degree warning against flash floods and floods from permanent rains for the west and some districts of central Slovakia. "Due to the fallen and expected precipitation, we assume a temporary significant local rise in water levels, especially on small streams, with the possibility of reaching and exceeding water levels corresponding to the degree of flood activity," report meteorologists. They also assume the occurrence of flood phenomena outside the streams.