According to the AFP agency, in the French capital Paris, many Afghans also demanded the resettlement of vulnerable people from this Asian country, which was controlled by the Taliban a week ago. "We demand the immediate repatriation of all families and people at risk," Ezat, a 31-year-old social worker who is a refugee himself, told AFP.
Since the fall of the Afghan government on Sunday, August 15, the French army has so far flown about 600 people from Kabul on five flights, mostly Afghans, according to AFP. According to the local police, about 1,700 people gathered in front of the seat of the Federal Chancellor Angela Merkel in the German capital Berlin, the DPA agency writes. They called, among other things, for the rapid evacuation of Bundeswehr soldiers, human rights activists, women's rights activists, scientists and sportswomen from Afghanistan.
Similar demonstrations took place in Germany on Sunday in Kiel, Frankfurt and others. YouGov's opinion poll shows that almost two-thirds of Germany's population agree to accept refugees from Afghanistan, the DPA writes.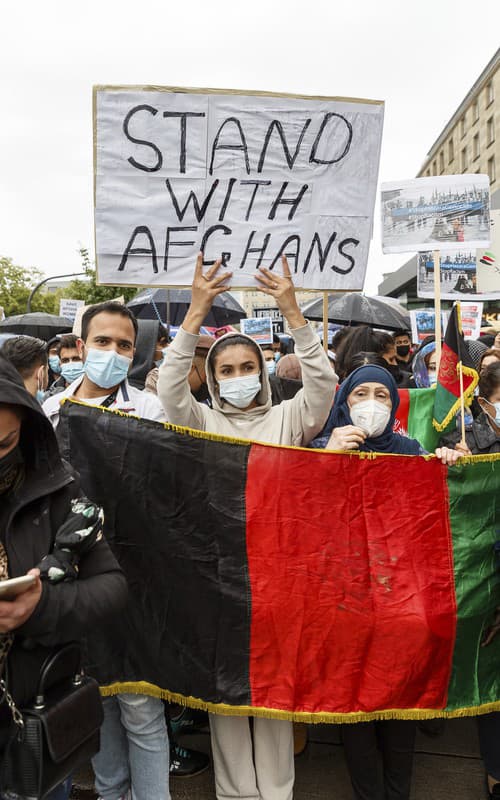 Source: SITA – (Markus Scholz / dpa via AP)
On August 15, militants of the fundamentalist Taliban movement easily occupied the Afghan capital, Kabul, and overthrew a government that had been militarily backed by the United States and the North Atlantic Alliance for two decades. Thousands of people are still trying to get out of Kabul. Many Western states have closed their embassies there and are evacuating their citizens and local collaborators.