According to an Elabe poll for BFMTV, the health pass is approved by 64% of respondents for access to bars and restaurants and by 77% of French people in long-distance transport.
In parallel with the demonstrations, the French seem to favor the health pass, according to an Elabe poll "L'Opinion en direct" for BFMTV on the French and the Covid-19 epidemic, the second part of which we are revealing to you this Monday. Indeed, the health pass is approved by 64% to 77% depending on the location, statistics up compared to July.
A plebiscite of seniors
In detail, the health pass is approved by 77% of French people in transport (planes, trains or long-distance coaches) and by 72% respondents for access to places of leisure and culture. For this second type of place, it is an increase of six points compared to our survey the day after Emmanuel Macron's speech.
There is also majority approval for access to cafes, bars, restaurants, with 64% of French people in favor, an increase of six points as well. The only data to experience a decrease, that for access to hospitals: 65% of people questioned say they are in favor, five points less compared to the speech of the President of the Republic.
"It is the oldest people who are most favorable to it (81% to 90% for those over 65)", notes our partner Elabe.
Conversely, they are much less numerous among young people. With 42% To 53% of favorable opinion, those under 35 are more reluctant, even reject the pass for access to bars, restaurants and certain shopping centers.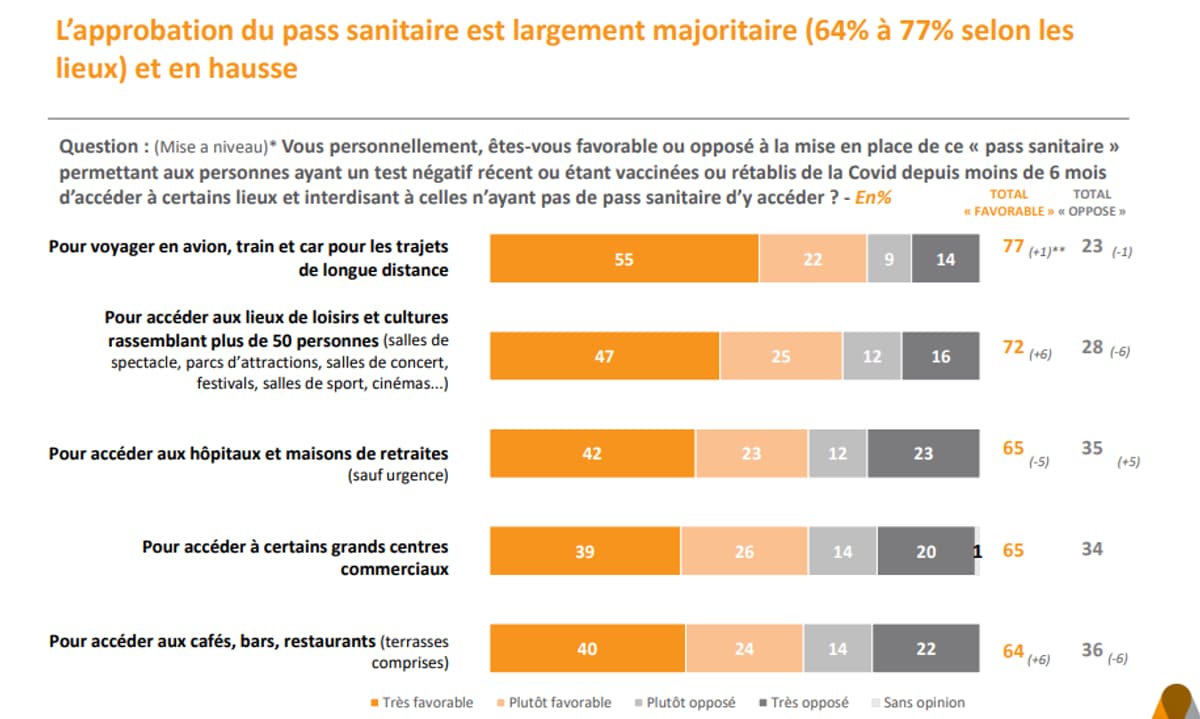 23% have given up seeing a loved one
These opponents of the health pass see their daily lives disrupted. According to our survey, 31% of the French say they have already given up on an outing where they had to present their health pass (restaurants, cinema, etc.). This proportion increases to 53% among those under 25.
Likewise, 23% of people questioned admit having already given up on seeing a loved one because they did not have a vaccine or a negative test. The same proportion (23%) says they have had arguments about the vaccine or the health pass in the past with a friend or family member.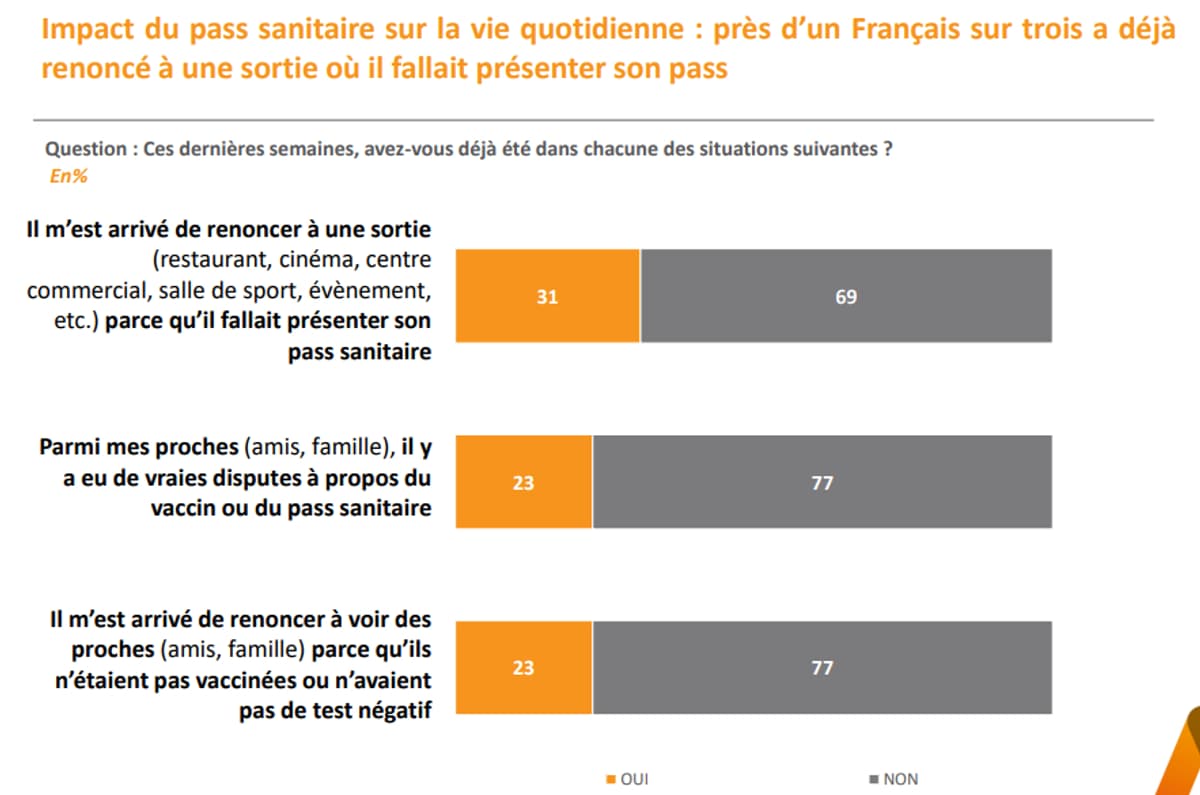 54% of French people disapprove of the mobilization against the health pass
At the same time, and as we announced to you on Sunday, public opinion is increasingly opposed to the mobilization against the health pass. 54% of French people now disapprove of the demonstrations, a figure on the rise.
In details, 34% of the French support or have sympathy for the mobilization, 54% say they are opposed or hostile – six points more than in our last poll on the subject, on August 3 – and 11% are indifferent to it. At last, 1% of those polled say they have no opinion.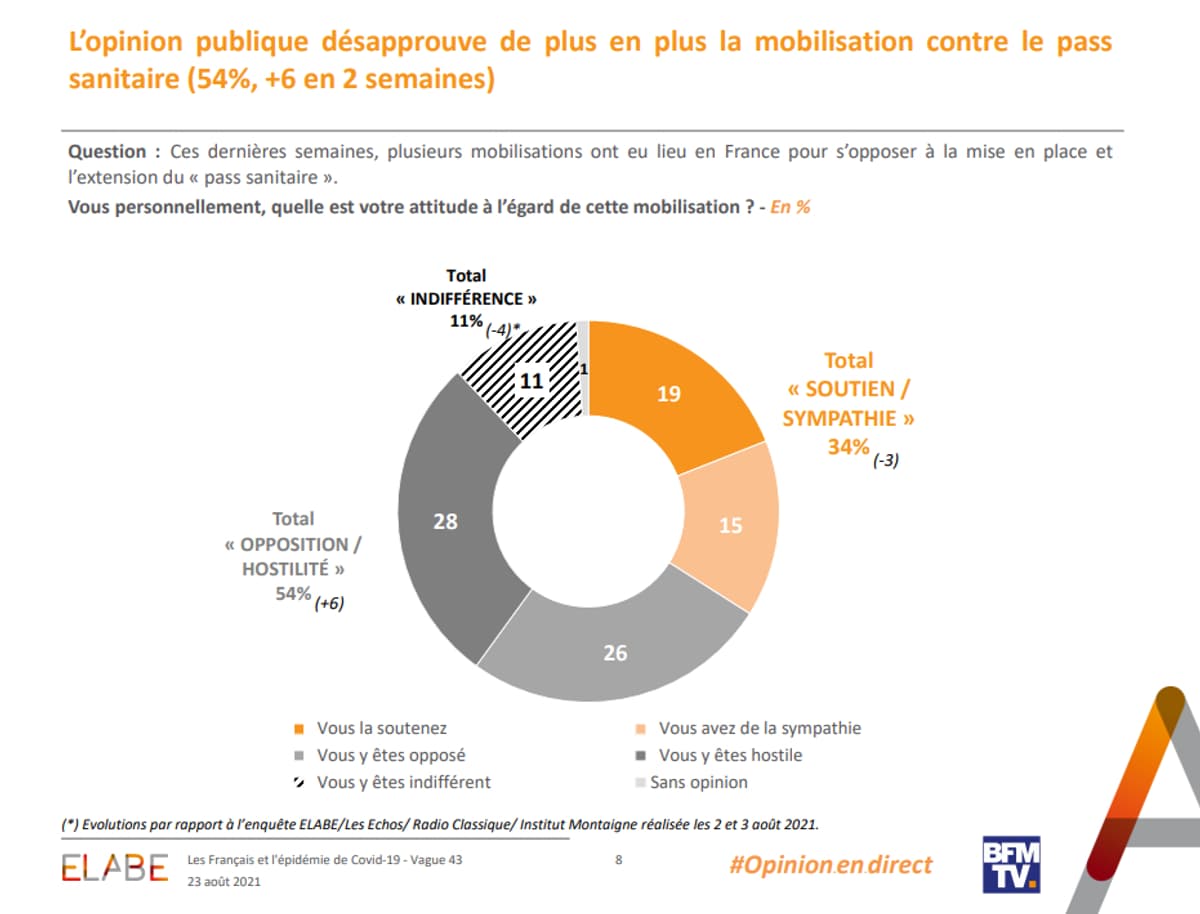 * Survey carried out on a sample of 1002 people representative of the French population aged 18 and over. The representativeness of the sample was ensured by the quota method applied to the following variables: sex, age and profession of the interviewee after stratification by region and category of agglomeration. Internet survey on July 19 and 20, 2021.
Esther Paolini BFMTV reporter