The evening duel of the 3rd round of the French highest football competition between the home team Nice and Marseille had to be interrupted after riots in the 75th minute with the score 1: 0.

TASR

22.08.2021 23:56, updated: 23.08.2021 06:33
Photo:

SITA / AP

,

Daniel Cole
Dimitri Payet from Marseille in the archive image.

The referee did so after the spectators broke into the field and confronted the wing of the guests Dimitri Payet.
He was the target of various objects from the point of view throughout the match, and when he played the corner, he threw the bottle that had hit him before back among the spectators.
At that, the home team's fans stormed the pitch. Subsequently, a skirmish broke out, in which the players also participated. The referee then withdrew the teams from the field. The AFP agency informed.
The newcomer to the French highest football competition Clermont Foot remains undefeated even after the match of the 3rd round. On Sunday, he drew on the field of Lyon 3: 3. Olympique, on the other hand, is still victorious.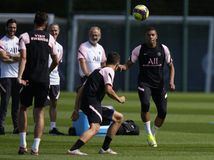 Read more What about Mbappém? He wasn't thrilled with Messi, but the joint action is a hit
The team from Angers, who drew 1: 1 in Bordeaux, lost 100%. After the 3rd round, only Paris will have the full number of points. Germain.