"Due to the expected torrential rainfall during storms, we assume a temporary significant local rise in water levels, especially on small streams, with the possibility of reaching and exceeding water levels corresponding to the degree of flood activity. said meteorologists. At the same time, they issued first-degree hydrological warnings against flash floods.
These apply especially in Liptov, Považie, Kysucie, Orava, lower Nitra and in southwestern Slovakia. The development of the hydrological situation will be continuously updated by meteorologists. Meteorologists have also issued storm warnings. The first degree warning is valid in the whole of western and part of central Slovakia from 22.00.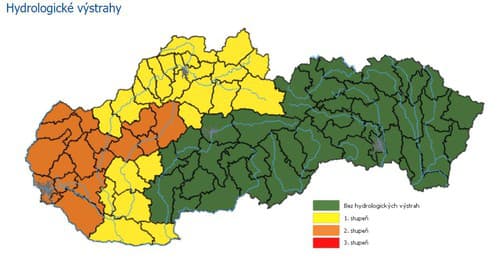 Source: SHMÚ
Since midnight, a second-degree storm warning has been issued in some districts of the Bratislava, Banská Bystrica, Trenčín, Nitra, Trnava and Žilina regions. "Storms can be associated with torrential rains of 30-50 millimeters and gusts of 70-110 kilometers per hour," said meteorologists. In the rest of the territory, except for three districts in eastern Slovakia, a first-degree storm warning applies.