Why are prices rising? There are several reasons for rising prices, such as rising commodity prices such as coal or gas. After measures against coronavirus (lockdowns), people are starting to spend more on shopping, so companies have to produce more and thus spend more electricity.
These and other factors then put upward pressure on electricity prices.
The price of electricity on the Prague Stock Exchange, from which the price we see in our own accounts is based, shot at 61 per megawatt hour for 2022. This year it was 46 euros.
Let's now look at how much we can pay extra for electricity per year. The values ​​are only indicative, as the final prices have not yet been set.
For example (converted to the price list of Magna Energia – household in the territory of Západoslovenská distribučná, as):
Tariff D1 (ordinary household in the apartment – lighting, common electrical appliances) consumption 1,200 kWh per year
year 2021 – 213.12 euros per year
year 2022 – EUR 232.38 per year
Tariff D2 (higher consumption, but no electricity) consumption 2,000 kWh per year
year 2021 – EUR 322.83 per year
year 2022 – EUR 354.93 per year
Tariff D5 (household electricity and heating), consumption 5,000 kWh per year
year 2021 – 582.57 euros per year
year 2022 – 662.82 euros per year
Responses to rising prices
The growth of electricity and gas prices on world markets brings the threat of rising prices for Slovak customers – citizens and companies. However, the rise in prices on stock exchanges may not be fully transferred to the final prices of electricity, gas and heat in Slovakia. Energy prices are not decided by the government, but by the Office for the Regulation of Network Industries (ÚRSO). According to the chairman of the Economic Committee of the National Council (NR) of the Slovak Republic, Petr Kremský (OĽANO), the Office now has a large space for their braking, which it should make full use of.
According to him, the price of energy makes up less than half of what the customer pays, the rest are fees for distribution, network operation or various contributions to funds. According to Kremský, these fees should fall next year.
"For example, the system operation tariff (TPS) is the price for supporting electricity from renewable sources and brown coal. However, the higher the price of electricity on stock exchanges, the less electricity producers have to pay extra. In addition, Parliament recently passed a law under which this surcharge from next year, it will be halved for many producers. The production of electricity from brown coal is also gradually declining and will stop completely in 2023, " Kremský explained.
He noted that TPS now accounts for about 16% of the price of electricity and ÚRSO should clearly reduce it for next year. Kremský emphasized that another 30% of the price of electricity is made up of fees for distribution companies, which have been overvalued in the past and there is much room for reducing them. According to him, these monopoly companies achieve gross margins above 50% of annual revenues and it is time for the prices of their services to realize.
Fico asks, what does the government intend to do?
The government should present a plan for what it will do with rising energy prices for 2022. This was stated at a briefing by the chairman of the Smer-SD opposition party, Robert Fico.
"We ask the Slovak government to present a clear plan of what can be done to prevent a sharp rise in electricity and gas prices for households in 2022," Fico approached.
He noted that the Office for the Regulation of Network Industries (ÚRSO) has already announced that the reference price for calculating the price of electricity for households will be the average price of electricity on the markets, which has climbed to 61 euros per megawatt (MW). "When we compare it with 2020, it represents an increase of 15 to 16 euros. We remember the times when the reference price was 30 to 40 euros per MW. We admit that there are various international, market circumstances that are pushing up the price of electricity, " underlined.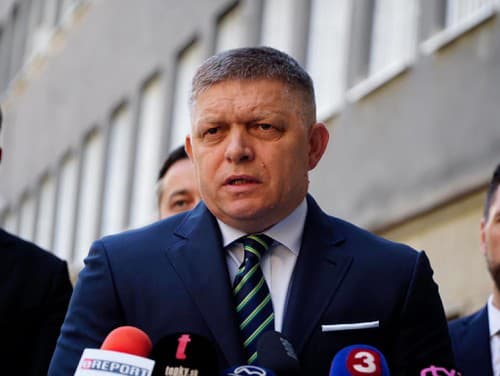 Source: Topky – Maarty
"We also remind the Government of the Slovak Republic that the price of electricity paid by households is composed of several items. The price of 61 euros represents only 40% of the total electricity. With another 60% of the price, the government can work very actively and prepare to s ÚRSO ensured that the price of electricity will not go (sharply) upwards.The assumption of a jump in electricity prices is 15 to 20% in 2022. The price of gas is also developing unfavorably, for which we can expect a sharp increase in the price of households. up gas, electricity, everything will go up, " stressed Fico.