Alerts are valid from 8 pm to Monday (August 23) until 6 am. In these districts, there is an increased likelihood of hail storms, which pose a potential danger to human activities. "Storms can be associated with short-term but intense downpours, in which totals can reach 20-40 millimeters and gusts of wind speeds of 65-85 kilometers per hour," said meteorologists.
From midnight, storms are to occur throughout Slovakia. In the east of the territory in the Prešov and Košice regions, meteorologists issued a first-degree warning against storms, which is valid until Monday at 12.00.
The SHMÚ stated on the social network that a cold front will begin to advance through our territory from the west the following night. "Especially in the second half of the night, we expect intense storms, especially in the west of Slovakia and in the Žilina region, which will be accompanied by intense rain, intensified winds, or even hail," said meteorologists. During the day, the cold front and precipitation zone will move further east, according to the SHMÚ, and precipitation should partially stop in the afternoon, especially in the west. It can stop raining there in the morning.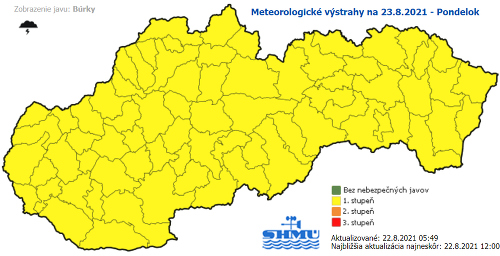 Source: SHMU
Meteorologists said that cooling should also be expected. "While on Sunday we expect a maximum temperature of around 30 degrees Celsius in the warmest areas in the south of the territory, on Monday it will be from 17 degrees Celsius in Orava to 25 degrees Celsius in the far southeast of Slovakia," added by meteorologists.